There are many benefits to bringing natural light into your home. Not only will your home feel brighter and more lively, but you'll also see changes in your mood, health, and productivity. For instance, natural light has been known to increase productivity, elevate your mood, and even offer some health benefits as well. Also, utilizing the natural light in your home helps save energy and money, and can enhance the look and beauty of your home's interior. See for yourself how the products from Horizon Window Fashions, a Hunter Douglas partner, can help give your home the natural light it needs. 

Hunter Douglas Vignette® Shades 
The Vignette® shades from Hunter Douglas are made from tactile fabrics that have either flat or contoured folds. The folds help make the shades look nicely uniform and elegant. And their chic look is perfect for transforming incoming light so that it's crisp and bright. The fabric has light-filtering abilities that allow natural light to enter your home without being overly bright. Another variation of this shade Duolite, offers a sheer front shade with a room-darkening back panel which also allows natural light to enter your home while providing more privacy and light control.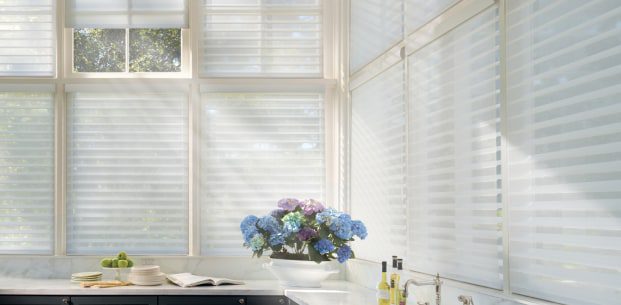 Hunter Douglas Silhouette® Window Shadings
As a Hunter Douglas partner, Horizon Window Fashions carries a variety of Hunter Douglas products, including the Silhouette® window shadings. These window coverings are perfect for adding some natural light to your home because of their soft fabric and tilting ability. Also, these window treatments are designed with unique S-shaped vanes that make diffusing light possible. This helps heighten your senses and allows you to personalize the amount of light you let into your home. And when the shades are tilted, you have optimal privacy from the outside, which lets you manage light and privacy almost effortlessly. You're easily able to transform a dark and dreary room into a warm and inviting space with these shades.
As an added bonus, the Silhouette® window shadings are also available with a specialized front and back sheer that diffuses light and provides UV protection. And, the best part is you still get a view of the great outdoors.  

PowerView™ Motorization 
The PowerView™ motorization system that pairs with Hunter Douglas blinds and shades makes opening and closing your window treatments effortless and convenient. With PowerView™ motorization, you're able to set a schedule for your blinds or shades to open or close automatically. That means you have the opportunity to structure your window coverings based on the amount of light you want to let in and always have the chance to get the best natural light in your home. You can even adjust the programming of the device to follow the sun's movements for an enhanced experience. 
Horizon Window Fashions - Hunter Douglas Partner  
When it comes to bringing natural light into your home, the window treatments you use are critical. Horizon Window Fashions, a Hunter Douglas partner, offers various window treatments that come directly from Hunter Douglas. Their quality blinds and shades provide the perfect addition to any window. While the Vignette and Silhouette shades offer the best natural lighting all on their own, the PowerView motorization gives any window covering the ability to let natural light in. Connect with a representative from Horizon Window Fashions to schedule your consultation!