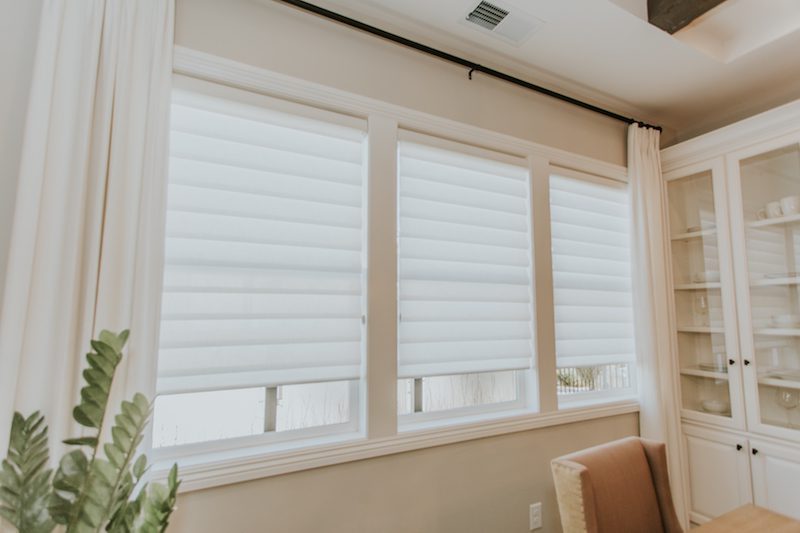 Horizon Window Fashions has partnered with Toll Brothers Reno to do vignette shades installations on their model homes. We are going to be starting a series in which we talk about specific model homes and the type of shade or shutter that was installed. Today, we will be talking about the Sorrento Trail model in Damonte Ranch that is featuring a Vignette Shade.
What is a Vignette Shade?
The Hunter Douglas Modern Roman Vignette shades come in a variety of fabrics. The combination of the gorgeous fabric and the soft, stacked folds give your home a clean, modern look. The stacked folds are designed to not only give off a beautiful aesthetic but are easy to operate as well. These shades do not have exposed rear cords, which improves the overall look of your home while also enhancing child safety.
What are Some of the Key Features of these Shades?
Variety of Fabrics to Choose From:  The Modern Roman shades are offered in sheer, light-filtering and room-darkening fabrics opacities. They come in a wide variety of colors and textures including silk, linen, tweed, and more.
Different Styles: The vignette shades are available in two different options. The first option is the Rolling Style feature, which includes a 4" full fold or 6" flat fold and rolls up towards the headrail. The second option is the Stacking style which stacks
Duolite: The Vignette Duolite Shades has both light-filtering and room-darkening capabilities. So whether you want to fill your house with sunlight, or get a few extra hours of sleep in the morning, the  Vignette Duolite shade gives you this option!
The Vignette Shades are also available in PowerView Motorization, LiteRise, UltraGlide, EasyRise, and Top-Down/Bottom-Up Operating Systems.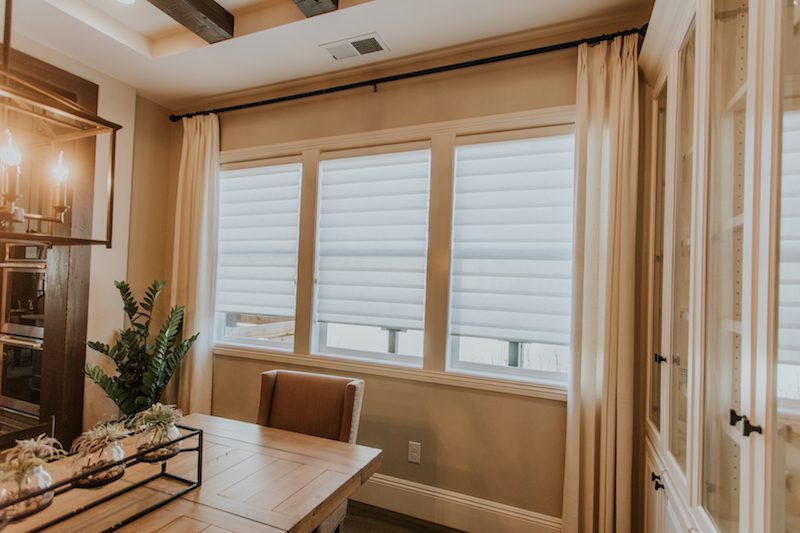 What Does the Reno Blind Installation Process Look Like?
Horizon Window Fashions will do the installation for you! The process varies depending on the type of shade or shutter and typically takes around 2 hours.
How to Clean Your Shades
Because Vignette Roman Shades are made using an anti-static, dust-resistant fabric. Here are a few tips to keep your shades looking brand new:
Dusting: To keep your shades dust-free, you can lightly sweep with a feather duster across the tiers.
Vacuuming: If you don't own a duster, a hand-held vacuum or vacuum with a suction attachment is a great alternative to removing dust.
Hair Dryer for Dirt & Debris: If you look at your shades and notice that dirt or debris is starting to collect, you can use your hairdryer (on the cool setting) to clean them out.
Spot-Cleaning: To spot clean your shades, take a cloth or sponge and dip it into a mixture of warm, distilled water and soap. Dab with the dampened cloth until you have gotten your desired result. Allow the shade to dry fully before raising them up!
Work With Horizon Window Fashions
Horizon Window Fashions is your go-to place for all of your window shades, blinds, and shutters. We offer 20 years of experience and strive for 100% customer satisfaction. Feel free to contact us and speak with one of our experts about your window covering needs!