When it comes to selecting new window furnishings, we've got you (and your windows) covered! Shades, shutters, and blinds are a great investment in the look, feel, and functionality of your home. And in this age of smart homes, it's no surprise that automated blinds are growing in popularity. For over 22 years, Horizon Window Fashions has been adopting the latest technologies, then mastering the selection, installation, and customer support behind them. As a Hunter Douglas certified dealer, we carry motorized blinds that increase automation, energy savings, and enjoyment of your home.
Motorized window coverings are an efficient solution to optimize the positioning of your blinds throughout the day. Maybe you want to be able to shut all blinds simultaneously when heading out the door. Perhaps you desire the ability to adjust your shades remotely while out of town or at work. Or it could be that your windows are out of reach and you want a solution to control light levels up high. Whatever your needs are, Horizon Window Fashions will help you find the Hunter Douglas motorized shades that cater to your unique situation.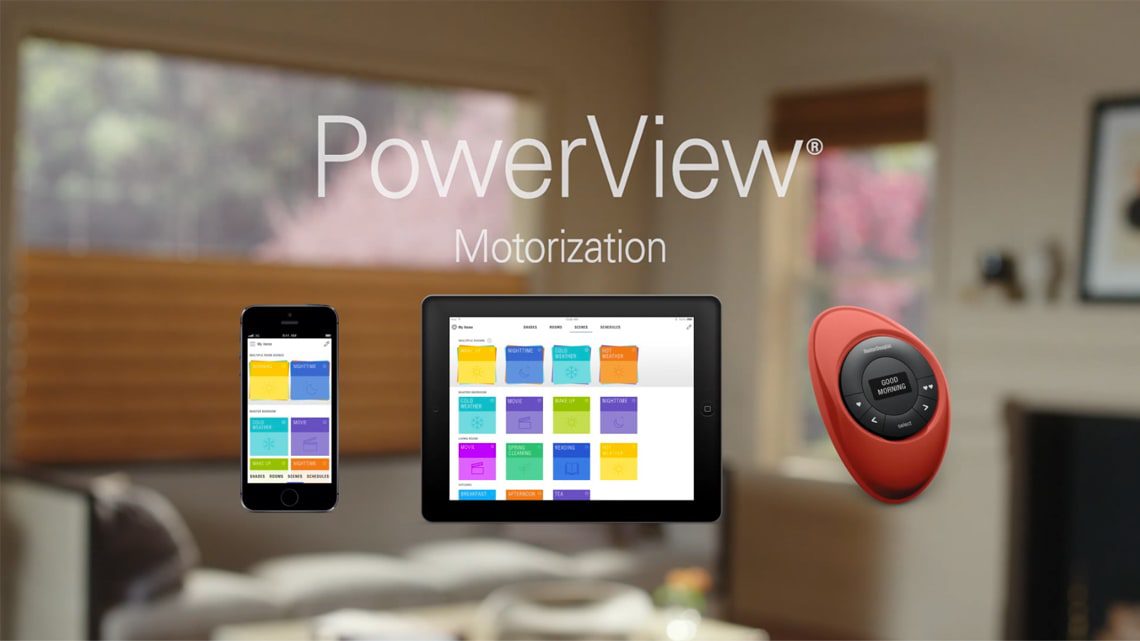 Make Your Smart Home, Smarter.
Hunter Douglas motorized blinds feature discrete, rechargeable battery packs that can last up to a year on a single charge. Operation of the blinds can be set up through the PowerView® smart phone app, remotely controlled via the Pebble® wireless remote, or connected with the PowerView Gateway Hub® for completely autonomous operation. PowerView blinds also integrate seamlessly with home assistants like Amazon Alexa or Google Home, and as of May 2022, Hunter Douglas has incorporated Bluetooth® technology into new systems for two-way communication between your shades and the PowerView system. It's entirely up to you to choose the level of automation you desire. Whether you'd like the blinds to operate on preset schedules, be adjusted with your fingertips, or be at your beckoned voice command, there's a solution and style waiting just for you.
Control the Sun, Save Energy.
Light is a powerful energy source that is waiting to be harnessed (or blocked out) in your home. In the winter, Hunter Douglas power blinds can be programmed to let in light, and welcome heat while you're away. In these hot summer months, automated blinds can block out harsh UV rays that are silently driving up your energy bill and causing fading to your furniture, flooring, and priceless pictures. Some compatible fashions even feature a honeycomb design that insulates your windows further against heat and cold. The high desert of Northern Nevada sees temperature swings from single to triple digits, and an average of 250+ days of sunshine a year. Investing in Hunter Douglas power shades is one more way to bolster your home's energy-saving defenses in our unique climate.
Enjoy Your Home to its Greatest Potential.
A home is typically the biggest purchase made in our lifetimes. Some upgrades you make won't have much impact on the value of the home, but motorized window fashions definitely do – especially when done right. DIY motorized conversion kits do exist on the market, but the online reviews say it all. Big, clunky motors. Loud gear drives. Cords in plain sight. As they say, buy nice or buy twice. Conserve your DIY energy for other projects in your home, but for a seamless fit & functionality, leave power shade installation up to the pros.

Don't go in Blind – Consult the Horizon Window Fashions Experts
The automated blind selection process can be overwhelming. Our customers have come to rely on Horizon Window Furnishings for prompt installation service, a strong manufacturer warranty, and friendly customer service to help you navigate the array of window covering options available. We'll help you select a style of automated shutters, blinds, roller shades, or drapery to compliment your home.
Our in-house team of skilled, trained window fashion experts is among the best in the state – all certified in Hunter Douglas products. With our Gallery website tab, you can get inspired. Once you have an idea of what you like, schedule a Powerview™ Automation Consultation so we can begin working with you on a custom automated window covering solution for your Reno home!