As an astute observer of the evolving world of interior décor, I've always been fascinated by the quiet charm of window treatments. They're the unsung heroes that set the mood of a space, controlling light while offering privacy and style. Today, I am particularly excited to share my thoughts on the Vignette Modern Roman Shades offered by Horizon Window Fashions, a leading Reno window shades provider.
Elegance and practicality are two terms that perfectly describe these Roman shades. Crafted with beautiful fabrics and a rich array of textures, they transform your windows into an artistic canvas. They take the concept of simplicity to the next level, offering a clean, classic look that effortlessly melds with a variety of décor styles.
What sets these shades apart is the versatility of their operation. You have the option with Vignette to make your Roman shades roll, stack, or slide, catering to your specific needs. Whether you crave a clear view of the outside world or desire a serene, enclosed environment, you're in total control.
The Vignette Modern Roman Shades truly shine in the variety they offer. From the color palette to the fabric selection, to the styles and fold sizes, the options seem virtually endless. You are empowered to make a choice that reflects your unique taste and style. The joy of creating your perfect window treatment is compounded by the exquisite variety that the Hunter Douglas window coverings offer.
As I immersed myself in the Vignette shades' splendor, I was also reminded of the Design Studio™ Roman Shades. If you adore the Roman shades style and long for an even higher level of customization through pattern and texture, the Design Studio is a path worth exploring. While the Vignette shades exemplify minimalistic charm, the Design Studio shades take a more individualistic approach, becoming a reflection of your personal aesthetics.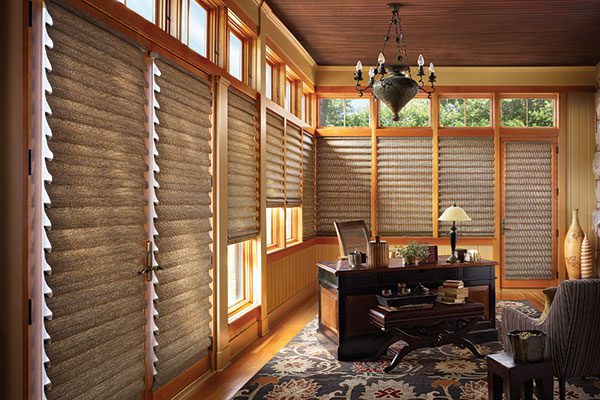 But the allure of the Vignette Modern Roman Shades extends beyond their beauty and versatility. It is equally rooted in the reputation of Horizon Window Fashions, the brand behind these exquisite shades. Serving the Reno-Sparks, Carson, Tahoe, Fernley, and Fallon areas for over 22 years, Horizon Window Fashions has firmly established itself as a household name.
Horizon Window Fashions is not just a business; it's a close-knit, family-owned entity that puts community at the heart of its operations. Their commitment to the local community is evident in their sponsorship and support of local events and organizations, such as the Reno Rodeo, The Veteran's Guest House, and more.
What truly impresses me about Horizon Window Fashions, however, is their exceptional customer service. They walk alongside their customers at every stage of the window covering remodel process, from budgeting and selection to installation and maintenance. Backing their products and installations with a satisfaction guarantee and offering competitive pricing, they demonstrate a level of customer service that is indeed commendable.
When you step into the Horizon Window Fashions showroom (open Monday through Friday from 11:00 – 5:00, and Saturdays from 10:00 – 4:00), you're not just exploring a range of Reno window coverings. You're stepping into a world of thoughtful design and impeccable service. The experience is akin to having an informed friend guiding you, ensuring that you make the perfect choice for your home.
In conclusion, the Vignette Modern Roman Shades from Horizon Window Fashions are not merely window coverings; they are a testament to the beauty that emerges when design meets functionality, when style aligns with substance. They create a symphony of light and shade, texture and color, comfort, and style, enhancing your living space in a way few other elements can.
Visit the Horizon Window Fashions showroom today to learn more about Reno window fashions!