Spring is in the air! This is the time of year we all look forward to in the Reno area - spending time outside and enjoying fresh air and beautiful sunshine. Are your doors giving you trouble? Light control, in regard to doors, can leave many homeowners feeling frustrated. There are some great solutions out there in window coverings for your doors that will let you enjoy as much springtime sunshine as you would like, while also allowing functional access to your outdoor space. Here are just a few of our favorites...
Entranceway Solutions
If you have sidelights - also referred to as privacy windows - you are probably looking for ways to dress them. Incoming light has a great way of brightening your entrance, but can be horrible for privacy. While the privacy windows help your awareness of what is happening outside your front door, you shouldn't have to feel overexposed.
Duette Shades
With the clean, organized appearance of uniform pleats, our collection of Duette Shades offers your sidelights a stylistic option for light control and privacy. Top/down, bottom/up operation means you can let natural light in while maintaining your privacy. The cellular design offers energy efficiency so your home can remain a comfortable temperature throughout the year. The fabrics and colors you select will allow your entranceway to complement your home's unique decor.
Silhouette Window Shadings
For those homes that feature high ceilings with a foyer-like feel, window coverings for your doors and entrance way windows is extremely important for setting the right atmosphere. Silhouette Window Shadings are a beautiful option when you want to direct the light and diffuse the glare. Soft, filtered light flows through to offer your foyer a warm glow. Choose automation for the convenience and functionality of those hard-to-reach windows.
French Door & Patio Door Solutions
You need access to your outdoor space, and your french doors and patio doors prove to be useful for the high amount of traffic. When you need window coverings for your doors, they have to provide solutions for light control and privacy, but without function, you'll just end up frustrated. You can have it all when it comes to your doors - you just need to know what's out there.
Shutters
Light control and privacy are a simple tilt away, as Plantation Shutters direct the light and block it out as you see fit. You can easily enjoy the view when adjusted open, while the designer look of shutters heightens the level of style in your home. Shutters offer the custom design elements of handle cut-outs and are secured in place for safety and ease of operation. The romance of shutters, with the functional qualities you need, make these window coverings for your doors a fantastic choice.
Vignette Modern Roman Shades
When the beauty and flow of fabrics is the look you want, Vignette Modern Roman Shades will provide your home with sophistication and softness. The adjustment of these shades into the fully opened or closed position will provide you with light control, energy efficiency and privacy options. The low profile, custom design qualities of these window coverings for your doors allow you to enjoy light control while offering functional use of your doors highlighted with beautiful fabrics that will complement your home.
Sliding Glass Door Solutions
Speaking of high traffic areas - if you have a sliding glass door in your home, you know exactly what we are talking about. The opening and closing never stops - children, pets, family and friends constantly in and out. Sliding glass doors are often convenient and easy to use, even for your little ones, but they can pose problems as well.
Skyline Gliding Window Panels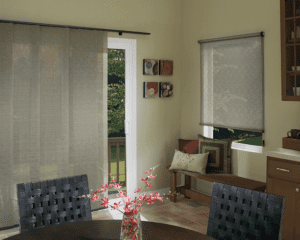 The glass in your doors is similar to a large picture window, which means you need window coverings for your doors just like you would a large window. Skyline Gliding Window Panels offer a sleek, low profile design for contemporary appeal with durability and low maintenance, as well as allowing you to enjoy levels of privacy, light control and UV protection. The beautiful view is one simple gliding motion away.
Now that spring is on its way, are you in need of window coverings for your doors? We would love to help. As one of the tricky problems faced by homeowners, your doors need solutions so you can have the best of both worlds: natural light and a beautiful view, with the ease of light control and function that fit your lifestyle. Contact our team, at Horizon Window Fashions, for a free, in-home consultation.