Choosing the correct window treatments can make a huge difference in the energy efficiency and comfort of your home. And in Reno, NV, where temperatures can range from scorching hot summers to chilly winters, it's especially important to choose window treatments that can help regulate your home's temperature throughout the year. Another large factor in deciding on the correct window treatments for you is picking ones that fit with your design vision for you home.
Cellular Shades
Cellular shades, also known as honeycomb shades, are a great option for Reno's climate. These shades are specially designed with pockets within the fabric that are built specifically to insulate your home better to help make sure the winters are warmer and summers are cooler. These shades also come in semi-opaque and room-darkening options to perfectly suit whatever vibe you're going for.
Roller Shades
Another excellent option for Reno's environment are roller shades. The amount of light that enters your home may be altered by rolling up and down these shades, which are composed of a single piece of fabric. You can also tailor them to your particular requirements because they come in a range of materials, including light-filtering and blackout alternatives. While still allowing natural light into your home, roller shades can help keep your home cool in the summer by blocking out the sun's rays.
Plantation Shutters
A traditional window decoration that is both fashionable and practical are plantation shutters. The louvers on these shutters may be adjusted and angled to alter how much light enters your home. They work well as insulation, keeping your house cozy in the winter and cool in the summer. Plantation shutters are a fantastic long-term investment for your home because they are also simple to maintain and clean.
Solar Shades
Solar shades are another excellent option for homeowners in Reno looking for window treatments. These shades are made from a tightly woven fabric that blocks out UV rays and reduces glare, while still allowing natural light to filter into your home. They are perfect for Reno's sunny climate, as they help regulate the amount of heat that enters your home, keeping it cool and comfortable during the hot summer months. Solar shades are available in a variety of openness levels, allowing you to choose the amount of light and privacy you want for your space. They can also help protect your furniture and flooring from fading due to sun damage, making them a practical choice for homeowners who want to preserve the longevity of their decor. Additionally, solar shades are easy to operate, with options for motorization or cordless lifting systems.
Vertical Blinds
If you are still looking for another great window treatment option ins Reno, blinds are a versatile and practical option. These blinds can be found in a variety of materials, including fabric, vinyl, and aluminum, making them a popular choice among Reno locals. Vertical blinds can be adjusted to control the amount of light and heat that enters your home, providing an excellent solution for Reno's sunny climate. They are also easy to clean and maintain, which is especially important for busy homeowners in the area. If you are looking for blinds in Reno, NV, vertical blinds are an excellent option to consider. They come in a variety of hues and textures, so you can discover the ideal fit for the interior design of your house. By adding vertical blinds to your windows, you can also create a modern and sleek look, adding a touch of sophistication to any room. Overall, when it comes to window blinds in Reno, vertical blinds are a practical and stylish choice that you won't regret.
When it comes to choosing the right window treatments for Reno's climate, there are plenty of options to choose from. Whether you opt for cellular shades, roller shades, plantation shutters, solar shades, or vertical blinds, Reno can become more comfortable with Horizon Window Fashions. To find the perfect window treatments for your home, be sure to work with a trusted window treatment professional who can guide you through the selection process and provide expert installation services.
Get in Touch with Horizon Window Fashions to Learn More!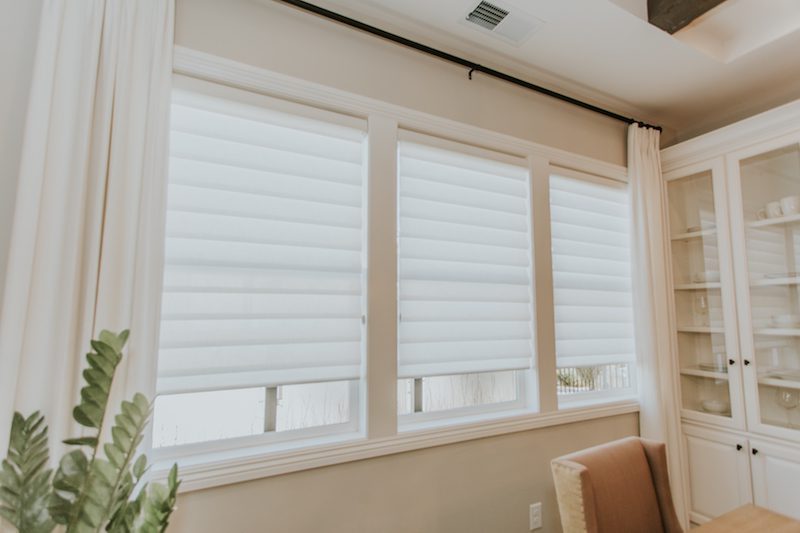 Horizon Window Fashions has partnered with Toll Brothers Reno to do vignette shades installations on their model homes. We are going to be starting a series in which we talk about specific model homes and the type of shade or shutter that was installed. Today, we will be talking about the Sorrento Trail model in Damonte Ranch that is featuring a Vignette Shade.
What is a Vignette Shade?
The Hunter Douglas Modern Roman Vignette shades come in a variety of fabrics. The combination of the gorgeous fabric and the soft, stacked folds give your home a clean, modern look. The stacked folds are designed to not only give off a beautiful aesthetic but are easy to operate as well. These shades do not have exposed rear cords, which improves the overall look of your home while also enhancing child safety.
What are Some of the Key Features of these Shades?
Variety of Fabrics to Choose From:  The Modern Roman shades are offered in sheer, light-filtering and room-darkening fabrics opacities. They come in a wide variety of colors and textures including silk, linen, tweed, and more.
Different Styles: The vignette shades are available in two different options. The first option is the Rolling Style feature, which includes a 4" full fold or 6" flat fold and rolls up towards the headrail. The second option is the Stacking style which stacks
Duolite: The Vignette Duolite Shades has both light-filtering and room-darkening capabilities. So whether you want to fill your house with sunlight, or get a few extra hours of sleep in the morning, the  Vignette Duolite shade gives you this option!
The Vignette Shades are also available in PowerView Motorization, LiteRise, UltraGlide, EasyRise, and Top-Down/Bottom-Up Operating Systems.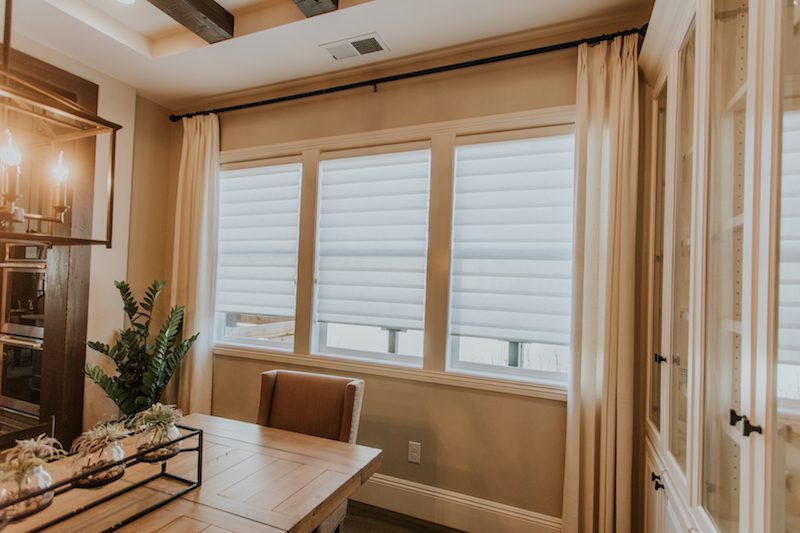 What Does the Reno Blind Installation Process Look Like?
Horizon Window Fashions will do the installation for you! The process varies depending on the type of shade or shutter and typically takes around 2 hours.
How to Clean Your Shades
Because Vignette Roman Shades are made using an anti-static, dust-resistant fabric. Here are a few tips to keep your shades looking brand new:
Dusting: To keep your shades dust-free, you can lightly sweep with a feather duster across the tiers.
Vacuuming: If you don't own a duster, a hand-held vacuum or vacuum with a suction attachment is a great alternative to removing dust.
Hair Dryer for Dirt & Debris: If you look at your shades and notice that dirt or debris is starting to collect, you can use your hairdryer (on the cool setting) to clean them out.
Spot-Cleaning: To spot clean your shades, take a cloth or sponge and dip it into a mixture of warm, distilled water and soap. Dab with the dampened cloth until you have gotten your desired result. Allow the shade to dry fully before raising them up!
Work With Horizon Window Fashions
Horizon Window Fashions is your go-to place for all of your window shades, blinds, and shutters. We offer 20 years of experience and strive for 100% customer satisfaction. Feel free to contact us and speak with one of our experts about your window covering needs!
Richness of design with sheers that reflect the glaring heat of the sun, Nantucket shades allow an atmosphere of comfort and glowing natural light. Energy efficiency and view through characteristics make this the perfect choice for your windows. Motorization is available for your convenience.
Soft light filters through, as the sheer reflects the glaring heat of the sun. Natural light enters your home, providing a warm glow while you enjoy the beautiful view without obstructions such as cords or tapes. The contemporary design of these shadings gives your home a striking appearance.
This innovative design allows you to adjust, tilt, open or close these shadings effortlessly. Featuring horizontal movement of the vanes, sheer fabrics offer your home a designer look and beautiful views without glaring sunlight. Motorization is available for ease and convenience.
A beautiful way to increase your privacy, but not reduce your view, these shadings also offer the benefits of light control and UV protection. A perfect solution for those large windows, the vast selection of fabrics will perfectly complement your home.
Hunter Douglas LiteRise or UltraGlide? In this age of rapid technological advancement, your home can be more functional than ever. Our Reno window coverings can be programmed to align with your lifestyle. Hunter Douglas offers operating systems that require an effortless operation to adjust both privacy and light control options.
Individual window treatments may require different operating systems based on how they are used – even if they function in the same shared space. With the Hunter Douglas LiteRise or UltraGlide Lift Systems, you have complete control over your window coverings. Based on each specific window function and needs, you can determine which operating system will suit your lifestyle and home. The best part about it is that you can have both, and with the innovative design features, the window treatments will coordinate nicely, regardless of the lifting system.
Hunter Douglas LiteRise Cordless Lift System

By simply placing your finger on the bottom rail, an upward movement will raise your window treatment. To adjust the amount of light entering—or close it altogether—the opposite motion on the bottom rail will pull the window treatment into place creating effortless operation with exact placement. Also, there are no cords, allowing for enhanced child and pet safety. Functioning efficiently in high traffic areas, the LiteRise Cordless Lift System is perfect for operating your window treatments.
Available on:
Alustra Woven Textures
Applause
Design Studio Roller Shades/Roman Shades
Designer Roller Shades, Designer Screen Shades
Duette
Everwood
Modern Precious Metals
Nantucket
Parkland
Provenance
Silhouette,
Solera
Sonnette
Vignette.
Hunter Douglas UltraGlide Lifting System

Featuring one retractable cord. the Hunter Douglas UltraGlide lift system provides you with the ease of function to raise and lower your window treatments. Gently tug on the cord to set the window treatment in the exact position you desire for privacy and light control. The retractable cord is valuable for windows in high traffic areas where access might have obstacles.
Available on:
Alustra Woven Textures
Applause, Design Studio Roller/Roman Shades
Designer Banded Shades
Designer Roller Shades, Designer Screen Shades
Duette
Modern Precious Metals
Nantucket Pirouette
Provenance, Silhouette
Solera
Vignette
Mixing Lifting Systems
Hunter Douglas Reno continually provides beautiful versatility with product combination, to offer clients the opportunity to coordinate with other window treatments in a shared space. Preserving the complementary design, while customizing the lift system for the function of the window treatment is such a tailored experience. Let's take a look at how you might mix and match for the perfect combination.
The LiteRise System perfectly fits for the function and use of your Vignette Modern Roman Shades featured throughout your open concept kitchen. However, the roman shade covering the window above your sink would best function with the UltraGlide System, allowing you to reach the cord to position the shade without hassle. Your Vignette Modern Roman Shades provide a beautiful look, with coordinating fabric valances, but more importantly, the shades will have customized functions just for your home.
The LiteRise System provides effortless control of both the light and privacy within your bedroom, but your master bath window is not as convenient to reach. Existing behind the tub, the window treatment would more easily function with the UltraGlide lift system's retractable cord, allowing you the enjoyment of light control and privacy options. Your family room may require both the LiteRise and UltraGlide lift systems due to the placement of furniture, taking into account your windows' location. Considering your window treatments' use and function will help you decide which window treatments should utilize which operating system.
The benefit of using both lift systems is the complementary design features for the coordination of fabrics to offer your home a finished look. We understand the importance of function for your window treatments. Customization is the key, allowing you to enjoy your beautiful view, while quickly adjusting your window treatments to the perfect setting.
Northern Nevada Hunter Douglas Dealer
Find out how the Hunter Douglas LiteRise and UltraGlide lift systems can offer you a custom experience for your unique lifestyle. Contact us to get started on your window treatment customization!