Window covering safety should be practiced every day, but this month is even more special because it's National Window Covering Safety Month. This month we're going to share with you some tools and tricks you can use to keep your children safe from window covering cords. With alternatives such as cordless coverings and the Powerview Hunter Douglas Window Coverings from Horizon Window Fashions, it's easier than ever to keep your children away from dangerous cords. 

Hunter Douglas Window Covering Safety
The U.S. Consumer Product Safety Commission calls corded window coverings one of the top five hidden hazards in American homes, causing infants and children to accidentally becoming entangled in window blind cords. The cords that hang from your window coverings may seem harmless, but they can become potential strangulation hazards to children if not properly managed. There are many window covering options to choose from that are child friendly, see which one will work best for you and your family.
Retractable Lift Cords
Retractable lift cords can be adjusted to your desired length so they won't be in reach of children. This system keeps cords at a constant length so you don't have to worry about readjusting.
Cord Tensioners
Continuous cord loop tensioners keep long cords from hanging down, and away from the reach of children. The cord loops through the tensioner device and works on a pull system, which means small children won't be able to grab onto the cords.
Cordless Window Coverings
Hunter Douglas has made window coverings that are completely cordless. To use them, all you have to do is pull down on the blinds or shades to close them, or push them up to open them. These window treatments eliminates the cord altogether, making them safe for any child to be around. 
Motorized Operating Systems
Motorized operating systems such as the Hunter Douglas PowerView system are completely hands free and can be found at dealers like Horizon Window Fashions. These motorized shutters don't come with a cord attached because the cord isn't necessary for controlling your window coverings. Instead of using a cord to control your Hunter Douglas window coverings, the PowerView system allows motorized shutters to move independently based on a schedule you set for them, making them perfectly safe for your children. 
For More Information
There are many tools available that can help educate and inform consumers of proper window covering safety methods. One of the best resources to use is the Window Covering Safety Council (WCSC) website. There, they have tips for childproofing your home, as well as articles, blogs and extra resources to help you keep your little ones safe from cord strangulation. 
Other resources you can use are:
Hunter Douglas Window Coverings at Horizon Window Fashions 
Horizon Window Fashions is a proud dealer of Hunter Douglas window treatments. We carry a wide range of Hunter Douglas blinds, shades, and shutters. Family is also important to us, which is why we encourage proper window covering safety. If you're looking to enhance the safety of your Hunter Douglas window coverings, then connect with us! We can help make your home's blinds or shades completely child safe, so you won't have to worry about your children being near the windows. Contact us today!
With all the new research out about the benefits of being more eco-friendly, it's more important now than ever that we all do our best to reduce our carbon footprint. And what better way to start than by integrating energy efficient window shades into your home? Horizon Window Fashions has a variety of energy saving window coverings. Take a look at the list below to see which would be the best fit for you!
---
Duette® Honeycomb Shades and Duette® Architella® Honeycomb Shades
The design of the Hunter Douglas Duette® Honeycomb Shades makes it the perfect window covering to use for creating energy-efficiency. The single-cell honeycomb design provides more insulation by trapping air inside the pockets.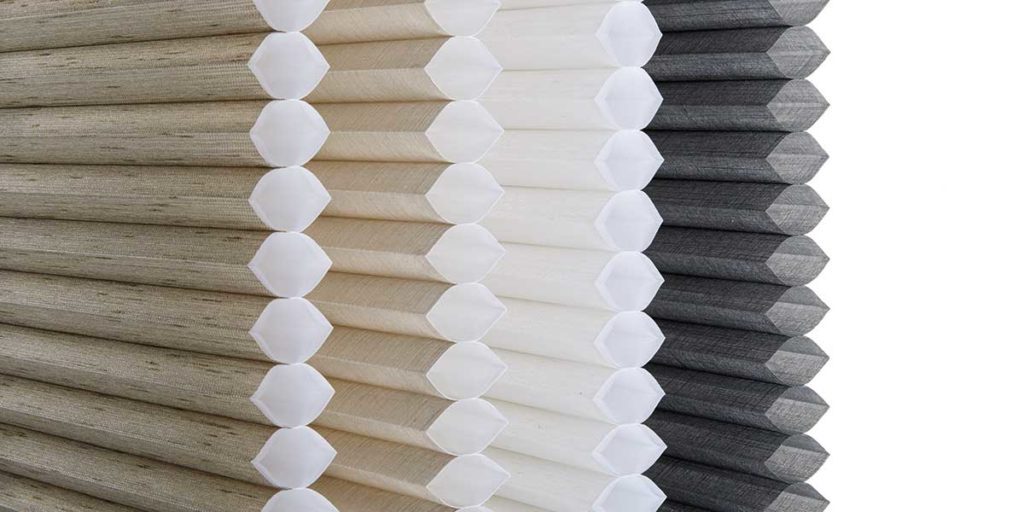 The insulation within the shades means that your air conditioning or heating unit doesn't have to work as hard to control the temperature of your home. This will lower your energy consumption, and even your energy bill. And if you want the most optimal energy efficient window shades available, then there's the Duette® Architella® Honeycomb Shades which features a honeycomb inside of a honeycomb. This will increase the insulation, making it the most energy-efficient design yet. 
These window treatments are available in many different fabrics, pleat styles, colors, and textures, making them perfect for any room. Also, we can apply the Duolite® option where two panels of fabric are included on one shade in order to maximize your options for light control.
Applause® Shades
Applause® by Hunter Douglas is a collection of honeycomb shades known for their energy efficiency. They are the only honeycomb shades with a triple-cell construction which maximizes their energy saving ability. 

Applause® shades are available in several different shapes guaranteed to fit any window. And they're also offered in some of our most popular textures and shades, ensuring that they'll look great in any room. The Applause® shades are also compatible with several different operating systems, such as:
PowerView®

LiteRise®

UltraGlide®

SimpleLift™

EasyRise™

Vertiglide™

Top-Down/Bottom-Up

Doulite®

SkyLift™

Simplicity™
Solera® Soft Shades
The Solera® soft shades have the energy efficiency of a cellular shade, while having the look of a classic Roman shade. The cellular construction of Solera® shades increases the insulating properties to lower your energy consumption. As an added bonus to these effective shades, they can also improve your room's acoustics while reducing the intensity of outside noise.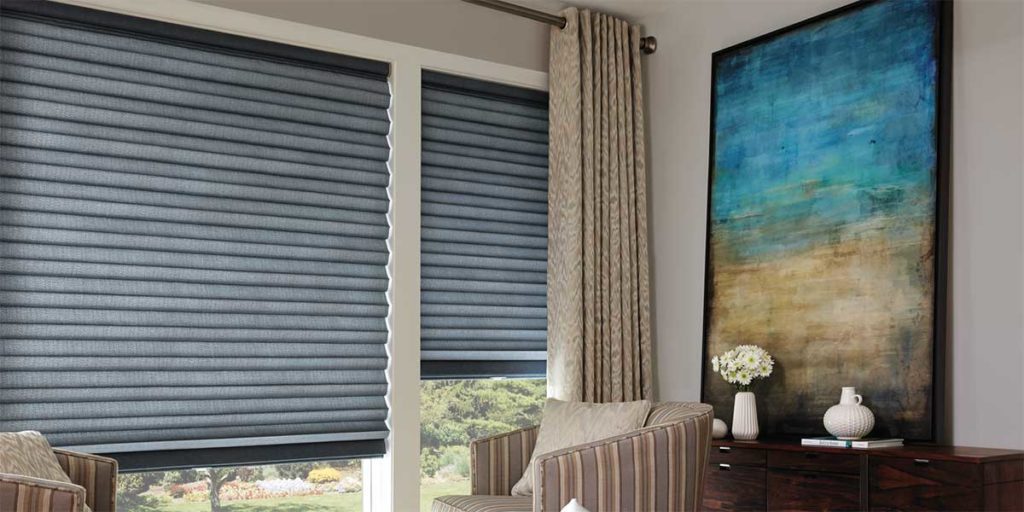 These are available in all fabrics and because the Solera® shades can be lowered and raised from either the top or bottom, you can control the light and privacy of your home.
Sonnette™ Cellular Roller Shades
The Sonnette™ cellular roller shades innovative design enhances its energy efficiency. They are created with two layers of fabric and curved contours to provide added insulation and an elegant look to your windows. Having the extra layer of fabric will really increase the ability to trap cool or hot air which makes them effective for sustaining your home's energy.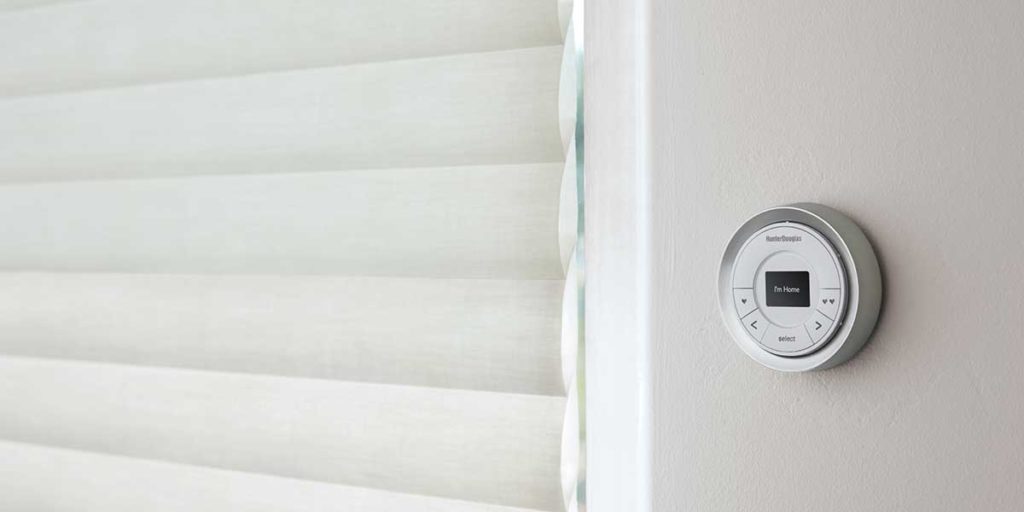 These shades come in 48 different colors and are offered in 4 fabric collections. And you can choose from semi-opaque and room-darkening options to better suit your specific needs.
Get Your Energy Efficient Window Shades From Horizon Window Fashions
We realize how important it is to be more energy efficient, not just for your wallet, but for reducing your overall energy consumption. Horizon Window Fashions offers a variety of energy efficient window treatments that will fit perfectly in your home. Set up a free consultation with us today!
Hunter Douglas Window Treatments
Nearly all of the Hunter Douglas window treatments can be motorized now. The exclusive Hunter Douglas Powerview® system allows people to enjoy the convenience of opening and closing their window blinds or shades with the touch of a button. Most of the Powerview window treatments are battery powered. The battery is hidden behind the headrail so you don't have to worry about it being out in the open. You also have the option have your Hunter Douglas Powerview® system to be hard-wired, eliminating the need for batteries. And the motors that control the window treatments are very quiet so there's no noise to bother you while your blinds or shades are in motion.
Hunter Douglas Powerview® Hub
Hunter Douglas has created a new Powerview® Hub which includes technology that lets you use voice commands to control your window treatments. The Powerview Hub connects to a Wi-Fi router to communicate with your window coverings that feature Powerview motorization. Now, with certain devices, you won't even need to press a button to command your window blinds or shades. Download the Hunter Douglas Powerview® App to make the process even easier by allowing you to set scenes and timers which will put an end to turning your window treatments on-and-off by hand. Now, your window blinds or shades will be controlled automatically through the Powerview App.
How to Use Voice Commands to Control Your Window Coverings
The Hunter Douglas Powerview Hub now supports the use of devices such as Amazon Echo and Alexa to vocally control your window treatments. All you have to do is connect the devices together and adjust your settings, and you're done! Your window coverings can be controlled by voice commands, making the process of opening and closing blinds and shades effortless. Check out a few of the devices that can be integrated with the Powerview hub.
Amazon Alexa
To activate your Hunter Douglas Alexa blinds, go to the Alexa App on your mobile device and select "Menu." Next, select the Skills and Games tab and search "Powerview Scenes Skill." Enable the Powerview Scenes Skill, and then select "Discover Devices." Once connected, you can command your Alexa device by saying "Alexa, turn on…" followed by the Powerview Scene name. For example, if you say "Alexa, turn on Good Morning," your Powerview hub will activate the scene setting for that command and open or close your blinds to the desired setting. Take a look at this video that shows exactly how to connect your Hunter Douglas Alexa blinds to your Powerview hub. 
---
Apple HomeKit
To use the Apple HomeKit with your Hunter Douglas PowerView® Shades, you'll need to use your Apple Home app and Siri on any of the following Apple devices:
iPhone

iPad

Apple Watch

Mac laptop

HomePod
After you've installed your PowerView system, it's time to enable HomeKit directly from the PowerView app. Once enabled, your PowerView shades can be controlled using Apple Home and Siri with HomeKit enabled accessories from your Apple device.  
Click here to download the how to guide.
---
Google Assistant
To operate your Hunter Douglas PowerView blinds with Google Assistant you'll need to open either the Google Home or Google Assistant app on your mobile device. Click on "Home Control" in the Assistant tab. Next, Choose to add a device by clicking on the plus sign icon and select "Powerview Scenes." You'll be required to enter your Powerview account information in order to link your Powerview account to your Google account. Activate Powerview Scenes using the Google Assistant by saying action phrases that correspond to your Powerview Scene names. For example, say "Hey Google, activate Good Night," and your Powerview hub will activate and control your window blinds without having to lift a finger.  
Click here to download the how to guide.
---
Hunter Douglas at Horizon Window Fashions
Horizon Window Fashions is a proud dealer of Hunter Douglas shades, blinds, and shutters. Our trained window fashion experts are certified in Hunter Douglas products and are specialists in installation and maintenance of these products. If you're looking for new window blinds or shades, or want to try the Powerview window treatments by Hunter Douglas, then set up a free consultation! Our free in-home consultations make the process of getting new blinds or shades easy and painless.
Having high-quality window coverings over the glass in your house is important for reasons other than just aesthetic appeal. Horizon Window Fashions is Reno's licensed Hunter Douglas supplier. We are passionate about providing you with beautifully made window treatments that also protect you and your family as well as your furniture and other possessions.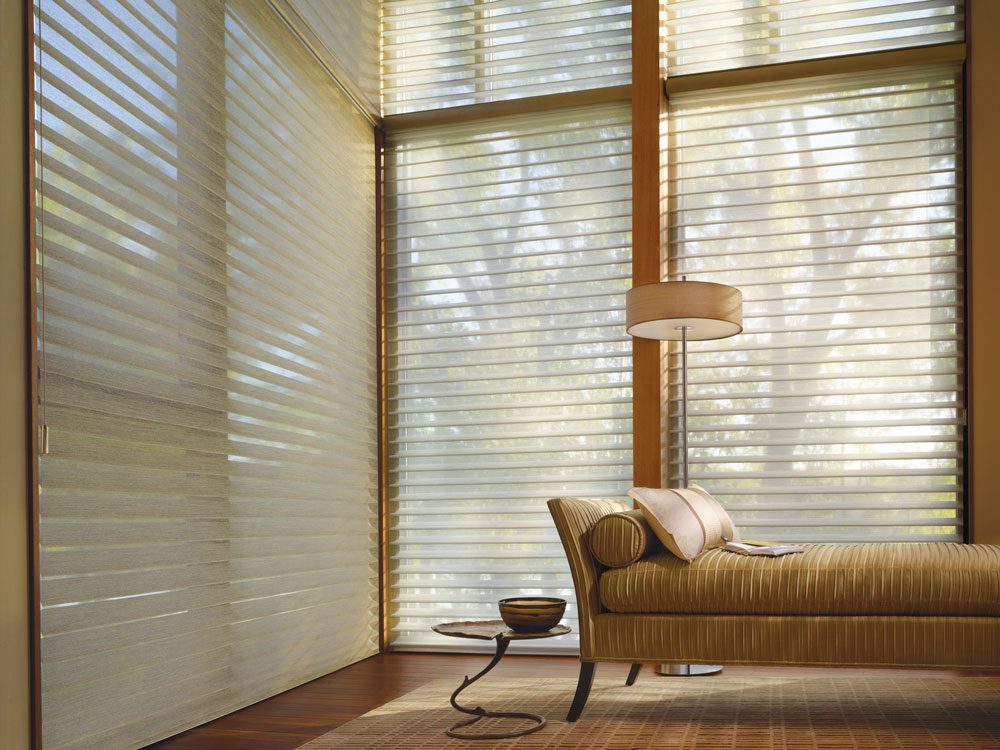 Customized Window Coverings To Retain The Value Of Your Home
When you purchase Hunter Douglas window coverings through Horizon Window Fashions, you can be sure that they're going to fit your window properly. Our experts come directly to your home to precisely measure. Many people purchase their window treatments directly online or through a catalog and then take the risk of the coverings not fitting properly. After we've provided you with a free consultation that entails properly measuring your windows, we invite you to come see our showroom. There, you'll be able to see firsthand an example of every single Hunter Douglas shade, blind, or shutter that is sold. You can view directly our wide range of color options and you'll be able to touch every type of fabric or material we have to offer. This way, there will be no surprises when we come to install your new treatments. You'll be getting exactly what you want and exactly what you expect. By purchasing treatments that fit your glass impeccably and look flawless, you are making sure to retain the value of your home so that when/if the time comes, you can sell it quickly and at the right price. Old, faded, and broken window coverings will make your home less desirable to potential buyers.
Privacy For You and Your Family
Huge glass windows are certainly beautiful in the middle of the day. Let the natural light into your home and also enjoy the view you have on the other side of the glass. But, what happens at night? Many don't enjoy the thought of others being able to see into their home once the sun goes down. The best solution to this is to cover your glass with shades that can open completely during the day but can also close fully at sundown. This will give you peace of mind knowing that you and your family are protected from outside view. When families approach us with this dilemma, one of our favorites to recommend is the Hunter Douglas Silhouette™ shade.
The Silhouette™ shade is absolutely perfect because it combines beauty and elegance with functionality. The S-shaped vanes almost appear to be floating between sheer panels. You can open them just slightly or you can pull them up completely to let all the sunlight in. Many of our customers tell us that the Silhouette shade is the most luxurious of all. The great part about the Silhouette shade (as well as a lot of other Hunter Douglas shades) is that there are several different options available to customize your shades. If you like a completely blacked out look, then the Silhouette Duolite™ shade is perfect as it has a room darkening roller shade nestled right behind the Silhouette™. You can also integrate these shades with Hunter Douglas PowerView® Motorization and schedule times throughout the day to open and close your shades. The convenience is remarkable—you won't even have to blink.
Keep Your Possessions Pristine
Over time, ultraviolet light, visible light, and solar heat all contribute to the fading of furniture upholstery, wood, art, paintings, and other items, bringing down the value of your home and other property you own. While keeping your shades open during the day can sometimes be nice, it's important not to do it all the time, especially when the sun is at its strongest point, or if you're out of town. Hunter Douglas window treatments have the ability to draw natural light into your home without shining directly on your furniture and floors and fading the color. Our coverings are also energy efficient so that you can save on your energy consumption in the winter as well as in the summer.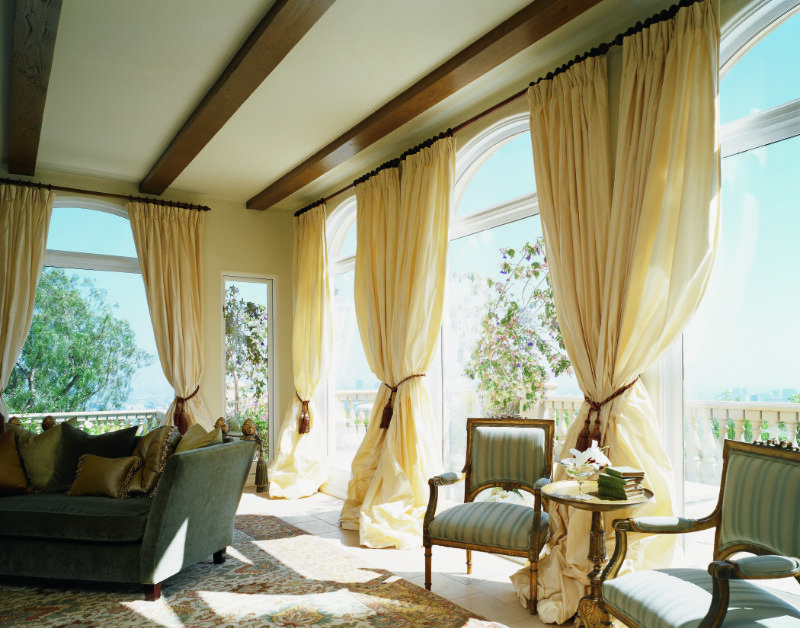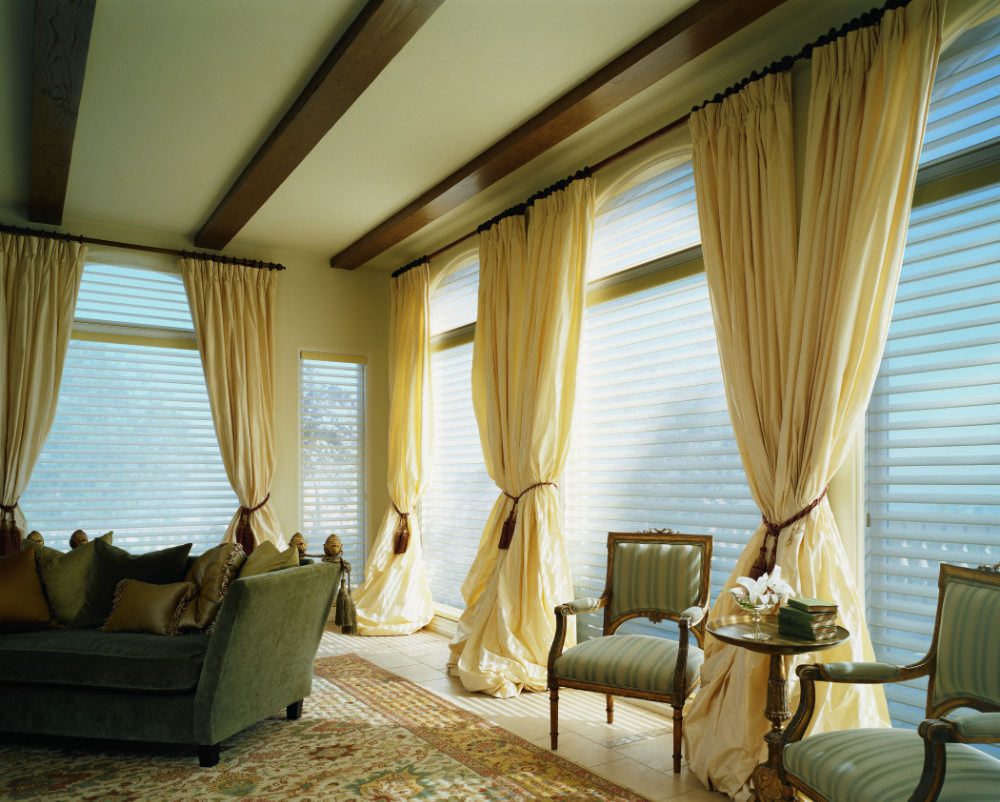 Get Your Window Coverings from Horizon Window Fashions
We are happy to offer a completely free consultation to any and all customers interested in customized window coverings. Through coming to your home and assessing your needs, we are attempting to streamline the process of choosing the best treatments for your windows. While the process can be time-consuming and stressful, we are here to give you an experience that will always put you first. If you're interested in window coverings but you aren't fully committed, simply fill out our contact form and we are happy to provide you with any information you need!
For years, the Pantone color institute has been forecasting color trends globally and giving advice to businesses on how to create a brand or product that has a visual identity. Pantone helps global brands take advantage of the power of color to help them develop a design strategy that grows their business.
For the year 2019, Pantone has selected "Living Coral" as the color of the year. Quite a change from Pantone's 2018 color of the year "Ultra Violet"—a thoughtful and provocative shade. "Living Coral," according to Pantone, "welcomes and encourages lighthearted activity," and "embodies our desire for playful expression."
Each year, when Pantone announces the color of the year, individuals scramble to incorporate the color into their daily lives. We see the color pop up more and more in several aspects such as fashion, makeup, interior design, marketing, social media, packaging, and all kinds of product design.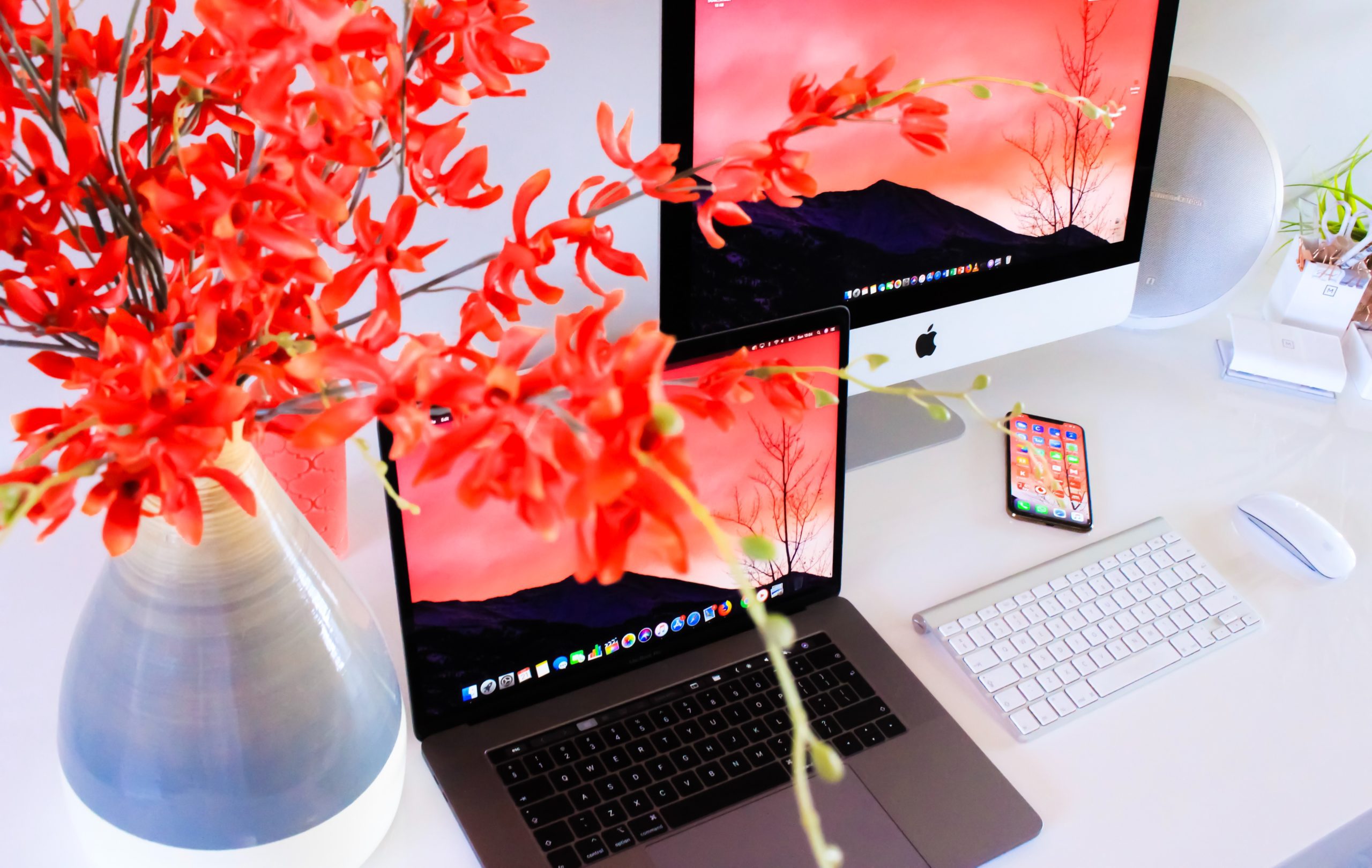 Incorporating Pantone's Color Of The Year
Because Pantone's color of the year is seen as trendy and fashion forward, individuals can't wait to bring the color into their home. However, as we've seen with many of Pantone's colors, they are often bright and must be incorporated carefully. Individuals typically like to use the color as an accent color in their home— something that "pops." In other words, it may not be typical to find "living coral" painted all over the walls of a home. We also probably wouldn't see a giant couch in this shade, nor would we see coral window blinds, shutters, or shades covering glass windows. However, we might see kitchen accessories in living coral, or perhaps pictures frames, vases, couch pillows, or other small decorations. In order to incorporate this brilliant color, it's essential that the rest of the house is a shade that compliments living coral as opposed to clashes with it.
Window Coverings—An Essential Component
One of the most important things in any home is the dressing on the windows. Window coverings are important not only for aesthetic appeal but also for the functionality of your home. The coverings on your windows really set the tone and determine the feel of the space. You first have to consider the color of your window coverings. Deciding on the color of the window blinds, shutters, or shades is a huge first step because you want to make sure it matches the rest of the room.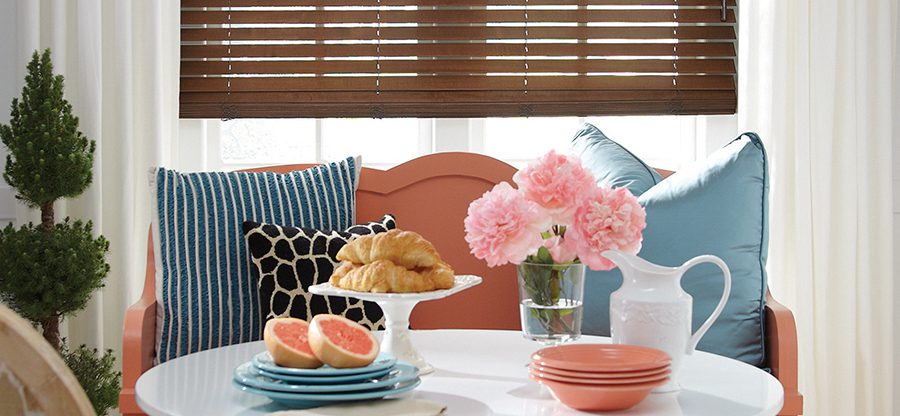 Colors to pair with Living Coral
Because living coral is such a youthful and expressive color, we recommend pairing it with light and neutral colors. Ideally, your window coverings will contain cooler tones as opposed to warmer ones. You won't want to choose something that has orange, red, or pink undertones. Shades with warm colors will clash with your living coral accents. Choosing a covering that is pure white will give your space a very crisp and clean feeling. Many of our customers choose a pure white covering when the furniture/decor/accessories in their home are prominent and brightly colored. You may also find window coverings in the grey family to work very well with a color such as Living Coral. It may not be quite as bright as the pure white, but it still gives your space that clean, modern, and perhaps "beachy" feel. We strongly recommend staying away from beige and brown tones, as well as anything that contains much pigment. When guests visit your home, they should feel the contrast between the living coral accents as well as the pure white or grey window coverings.
Let The Light In
With a bright color such as living coral, you'll want to let in as much natural light as you can. Stay away from choosing coverings that block too much light out of the room. However, you'll still want something that allows you to shut out light perhaps at night or during movie time. Choosing between Hunter Douglas shades, shutters, and blinds is not always an easy task.  We love all three, so we will give you our personal recommendation from each category.
Shutters
When it comes to shutters, we absolutely love the Palm Beach™ Polysatin™ Shutters. Even if your windows are constantly being exposed to harsh sunlight, these shutters won't fade, warp, crack, chip, or peel. The bright white color of these shutters is perfect for a home filled with accents of Living Coral. Allow the natural light to come in so that you can show off your stylish home decor.
Shades
If you're looking for shades to cover your windows, we recommend Hunter Douglas Pirouette® Window Shadings. The soft, horizontal fabric vanes close to filter natural light, or open to give you a perfect view of outside. So, during the day, open them up to allow your living coral accents to really pop, and during the evening, close them to give your home that cozy, warm feeling. These shades feature a revolutionary Invisi-Lift™ system that makes the vanes appear as if they are floating gracefully. You'll love the way these shades compliment a bright, energetic color.
Blinds
If you're interested in sticking with a classic blind, we recommend the Hunter Douglas Parkland® Wood Blinds in a bright white. If you prefer something in a slightly different shade, that option is certainly available as well. The Parkland® Wood blinds are great because you can choose from three different slat sizes and you have the option of adding Hunter Douglas Powerview® motorization.
Connect With Horizon Window Fashions
Finding the right window coverings for your space can really change the mood of your room and help to make your accent colors such as Living Coral really pop. There are several decisions that must be made during the process of choosing the right coverings. Type of covering, color, texture, amount of light, and whether or not you want motorization all must be taken into consideration. While the process may seem overwhelming, Horizon Window Fashions is here to make it easier. Let us know what we can help you with, and we will be more than happy to do so! We always offer a completely free consultation, so send us a message and let the fun begin!
We know it can be a difficult process when it comes to finding the right window blinds and shutters for your home. Whether you need a Reno blind repair or want a new look, Horizon Window Fashions has a variety of styles and materials to choose from. Stop by and take a look at our Hunter Douglas gallery, we are here to make this process easy and enjoyable for you.
Automated Window Treatments
Hunter Douglas PowerView Motorization
Hunter Douglas PowerView Shades and shutters help you create the perfect home setting. Whether you're using the app, pebble, or a home-automation system, PowerView shades lift and lower at your command.
The PowerView App
Using the Hunter Douglas PowerView App, you can control your shades and shutters with a simple swipe. Not only that, but you can create your own Scenes. Scenes allow you to position your window blinds and select the time of day that you would like them to operate. This can be done from the comfort of your home or even while you are away.
PowerView Pebble Control
If apps are not your style, Hunter Douglas has created the PowerView Pebble. Just like you use a remote to switch the channels on your TV, you can use Pebble Control to do the same for your shades. The Pebble allows you to control up to 6 different groups of shades in the house with the press of a button. https://youtu.be/BcrkyoHh42o
Home Automation Systems
You can integrate PowerView Motorization into a variety of home automation systems, including Alexa, Google Assistant, the Nest, and more.
Energy Efficient Window Treatments
Duette Architella Shades
If you are looking for energy efficient shades for your home, the Duette Architella shades are the ones for you. The honeycomb style shades are made with four separate layers. These layers help to slow heat transfers and gains allowing your house to stay cool in the summer and warm in the winter.
Duette Duolite Shades
Duolite shades consist of two separate fabric panels, these panels help to give off a seamless day to night feel and provide many options for privacy and light control. https://youtu.be/dCuNQs3sNaA
LiteRise Operating System
LireRise is a cordless operating system, its ease of use will make you question why you ever bought window coverings with a cord in the first place. To raise, you simply push up on the tab at the bottom of the shades; and to lower, you pull down.
EasyRise Operating System
Say goodbye to loose cords strings, and hello to the Easy Rise operating system. EasyRise contains a continuous cord that can be bolted to the wall. To raise and lower your shades, all you have to do is pull on the cord and voila!
Contact Us
If you are interested in learning more about our selection of Hunter Douglas window treatments and finding the right window blinds for your home, give us a call or visit us at Horizon Window Fashions today.
What is Smart Home Automation?
The terms home automation and 'smart home' mean the same thing. To put it simply, this describes any home that uses technology solutions like apps and sensors to automate daily tasks throughout your home. A typical smart home utilizes some sort of central control unit or app with interconnected systems like voice commands, programs and timers. The goal with smart home Hunter Douglas technology like PowerView Motorization is to make your life easier and more efficient. Smart homes and smart home tech also falls under the category of what's called, the Internet of Things. This technology is becoming more prevalent, with various companies like Nest, Hive, Samsung and Luxaflex® all breaking into the industry.
What does IoT mean?
IoT stands for "the Internet of Things." IoT broadly describes a fast-growing market of home automation technology, products, systems, and devices. These are what we call "smart devices" because they communicate in some way with the internet and each other. The benefit of IoT technology is real-time reporting. You're able to know what each system in your home is doing and when. There is now no need for mechanical timers to turn on a light or flick a switch. Instead, most IoT devices offer some form of app and integration with your smartphone.
Smart Homes, IoT, and Home Lighting Automation
Before IoT and smart home technology, automating the window blinds and shutters in your home required a myriad of pre-programmed timers, switches, and settings. Truly remote controlled lighting is now vastly different, especially with the PowerView app from Hunter Douglas.
Hunter Douglas now offers an array of automation control devices that integrate with its RedDot Design Award Winning PowerView Motorization system. With PowerView, you can set pre-devised moods such as 'movie' or 'dinner time' to work in tandem with the light you allow in with your window coverings. Use the PowerView app to position and tilt the shades to allow as little or as much light in. Each shade can operate independently as each is driven by a different motor and setting.
Benefits of Hunter Douglas PowerView Motorization:
Energy Efficiency

Automated shades are a great solution when it comes to controlling and maximizing your heating and cooling costs. Set custom scenes and automatically close your window treatments when it's hot out in the summer to keep the heat out and reduce heat loss in the winter by automatically lowering your shades at night. For additional energy efficiency, consider the insulating power of cellular shades in conjunction with the PowerView system. The cellular shades will add an extra layer of insulation at your windows.

Intuitive Integration with Your Home's Heating and Cooling System

Using a remote heating control or a smart thermostat that does the calculations for you can mean big savings on heating and air conditioning bills. With PowerView you can integrate a wireless thermostat that works with your home's WiFi. This allows you to control both your window coverings and your thermostat from your smartphone. Setting your window blinds using PowerView allows a winter home to capture more sunlight for thermal gain while you're out, and later trap heat in at night, closing your shades as the sun goes down. For summer, you may integrate your PowerView system with Duette Shades to block out the sun's rays and keep your home cool.

Control Shades with Your Voice

PowerView now also includes voice control. With voice commands, you can set your PowerView Motorization system to control the timing and positioning of your shades. Set them to raise, lower, tilt and traverse automatically all to suit your schedule. Not only is PowerView hugely effective and efficient, but its also compatible with other home-automated systems, including Nest®, IFTTT, Logitech®, Savant®, Control4®, URC®, ELAN®, Remote Technologies Incorporated and Crestron®.

Added Safety and Privacy

While you enjoy effortless control of your shades with the touch of a button, also consider safety. Because PowerView window treatments are all cordless, you stand to make your home safer for kids and pets. Automation also allows for greater privacy. Keep prying eyes and nosey neighbors out at select hours of the day. While the PowerView System certainly boasts brains, it's beautiful as well, with thoughtful design enhancements for each of its components.
Hunter Douglas PowerView Control Systems:
PowerView Pebble Remote and Scene Controller

The artfully-shaped PowerView Pebble Remotes and Scene Controllers now feature three new, on-trend colors—Ecru, Oyster, and Mist. These neutral additions join the current offering, providing ten fashion-forward colors to complement all interiors—from traditional to totally modern.

PowerView Hub

The PowerView Hub, the system's heart, and command center has evolved to echo the Pebble's appearance for a more cohesive look, while also offering faster processing speeds for an improved user experience. And, since it is now Wi-Fi enabled, there is no need to be restrained to a router.

PowerView App and Pebble Remote

The PowerView App, used to control individual shades and create Scenes—pre-programmed shade positions (like "Rise and Shine", "Dinner Party" or "Movie Night")—has been redesigned. Most notably, the App spotlights a refined color scheme and a dashboard feature—a customizable "home page" where you can add favorite Scenes, shades, and automations.

PowerView Repeater

The PowerView Repeater is equipped with strengthened signal ranges for even greater coverage throughout your home. Its sleeker style matches the new Hub, accentuated by an LED light as its base that provides customized illumination day or night. Select from a collection of seven hues, adjust the intensity and include them in Scenes created in the PowerView App.
Connect with us today!
If you're considering a window remodel, make sure you pick a company that values community and family as much as great service and expertise. Learn more about Horizon Window Fashions and check out our extensive line of Hunter Douglas window treatments. To see our window coverings in person, contact us or stop by our showroom located across from the Reno Costco.
Smart Home and Smart Living with Hunter Douglas Motorization
With PowerView Hunter Douglas motorization, the world's most beautiful motorized drapes and shutters are now the most intelligent. This innovative wireless system lets you tilt your Hunter Douglas window treatments according to the schedules you set. Perfect lighting, energy efficiency, everyday convenience -- its all delivered automatically with Powerview technology.
CONNECT WITH HORIZON WINDOW FASHIONS
Technology At Your Service
Automated Living
The PowerView App makes life easy. The app gives you the option to create customized Scenes with the touch of a button. You can choose to operate shutters individually or in any combination that you desire. Once you've customized your Scenes, you input them into the Hunter Douglas PowerView app, and your motorized shutters will automatically close and open according to your schedule.
Energy Efficiency
Not only can you use the PowerView App to schedule when your shutters open and close, but with PowerView Motorization, you can tilt your shutters' louvers according to the sun's daily patterns. This can reduce solar heat gain, heat loss in the winter, and can lower your energy bills.
Secure
You no longer have to worry about the safety of your home when you are on vacation or out running errands. The RemoteConnect feature on your smartphone allows you to adjust your shutters for added security when you are away.
Battery Powered
All PowerView motorized shutters are battery powered, making them easy to install, operate, and maintain. The battery pack is hidden in the top/bottom rails, to put focus on the beauty of your shutters.
Child Friendly
Say goodbye to hazardous cords, the PowerView shutter system is cord-free! Not only is it aesthetically pleasing, but safer for homes with children and pets.
Elevate The Control Of Your Motorized Shutters
PowerView motorized shutters add a whole new level of convenience and precise control. Some of the added benefits of PowerView Motorization are:
Meet the Hunter Douglas PowerView Family
PowerView App
The PowerView App allows you to customize and automate your collections of Rooms and Scenes with one simple click. It's designed for compatibility with Apple iOS products and Android tablets and mobile devices.
Pebble and Surface Remote
The sleek, handheld Pebble Remote and the wall-mounted Surface remote puts direct adjustment at your fingertips.
Powerview Hub
The PowerView Hub connects wirelessly to your WiFi network, making it the central point of control for your home's PowerView motorized shutters. The Hub allows you to store all of your settings and activates your Scenes.
Pebble and Surface Scene Controller
Don't have your tablet or smartphone handy? No need to worry, the Scene Controller works seamlessly with your Powerview Hub or App to activate the Scenes that you have created, adding even more convenient control.
PowerView Repeater
The PowerView Repeater is a small signal enhancer that plugs into almost any outlet. The Repeater extends signal range and carry commands throughout your home, and it also provides customized lighting via its illumination feature.
Smart Connections Beyond Your Windows
Today's connected home is more advanced, and easier to control, than ever before. At Horizon Window Fashions, we want to help you find the best shutters for your home. If you want to learn more about Hunter Douglas PowerView Motorization, talk to one of our experts today!
Connect with Us Today!
If you're considering a window remodel, make sure you pick a company that values community and family as much as great service and expertise. Learn more about Horizon Window Fashions and check out our extensive line of Hunter Douglas window treatments. To see our window coverings in person, contact us or stop by our showroom located across from the Reno Costco.
LEARN MORE ABOUT HUNTER DOUGLAS MOTORIZATION
French doors bring in tons of bright, natural light and open up rooms to the outdoors, but what are the best window coverings for French doors? Before buying, you'll need to consider several styles of window coverings and their related features. French doors are functional focal points, so the best coverings for French doors are those that modulate light and temperature. Depending on your needs, you'll most likely want to choose plantation style shutters or modern Roman shades.
The Best Window Coverings for French Doors Will Help Control Light
First, when choosing the best window coverings for French doors determine how you want to control the light. French doors allow light to stream into rooms and illuminate everything. This can be a problem when it comes to energy efficiency and optimal light control. Take an inventory of which direction your french doors face and how much light they let in throughout the day. You will also want to consider how you use the room and how much light you will want let in. If you think your French door window coverings will require constant adjustment throughout the day, then consider an automatic light control system like the Hunter Douglas PowerView. The window coverings below are some of the best options when it comes to french doors. Each allows for various degrees of functionality and energy efficiency.
Plantation Style Shutters
Light control and privacy are a one touch away. Plantation style shutters from Hunter Douglas help to direct the light coming in from your french doors. You can easily enjoy the view when adjusted open, while the designer look of the shutters heightens adds a touch of charm and style to your home. Shutters also allow for custom design elements like handle cut-outs, that are secured in place for safety and ease of operation. The romance of shutters, coupled with their functional qualities make these one of the best coverings for french doors.
Modern Roman Shades
If you're looking to diffuse light as it streams through your french doors, then you'll need a fabric. Vignette Modern Roman Shades by Hunter Douglas provide this for your home resulting in sophistication and softness. You can adjust these shades to fully opened or closed positions. This provides you with a high degree of light control, energy efficiency and privacy. The low profile, of modern Roman shades and their custom design qualities make these one of the best window coverings for french doors. Enjoy optimal light control coupled alongside superior functionality. Horizon Window Fashions has the experience to help you select the best window coverings for french doors. We take into consideration the design and style and functional needs of your room. We'll help you tie your room together with luxurious window coverings for your French doors. Request a complimentary design consultation from our experts, we'll help you determine the best style of shades, blinds, and shutters and which operating system will work best for you.