Window covering safety should be practiced every day, but this month is even more special because it's National Window Covering Safety Month. This month we're going to share with you some tools and tricks you can use to keep your children safe from window covering cords. With alternatives such as cordless coverings and the Powerview Hunter Douglas Window Coverings from Horizon Window Fashions, it's easier than ever to keep your children away from dangerous cords. 

Hunter Douglas Window Covering Safety
The U.S. Consumer Product Safety Commission calls corded window coverings one of the top five hidden hazards in American homes, causing infants and children to accidentally becoming entangled in window blind cords. The cords that hang from your window coverings may seem harmless, but they can become potential strangulation hazards to children if not properly managed. There are many window covering options to choose from that are child friendly, see which one will work best for you and your family.
Retractable Lift Cords
Retractable lift cords can be adjusted to your desired length so they won't be in reach of children. This system keeps cords at a constant length so you don't have to worry about readjusting.
Cord Tensioners
Continuous cord loop tensioners keep long cords from hanging down, and away from the reach of children. The cord loops through the tensioner device and works on a pull system, which means small children won't be able to grab onto the cords.
Cordless Window Coverings
Hunter Douglas has made window coverings that are completely cordless. To use them, all you have to do is pull down on the blinds or shades to close them, or push them up to open them. These window treatments eliminates the cord altogether, making them safe for any child to be around. 
Motorized Operating Systems
Motorized operating systems such as the Hunter Douglas PowerView system are completely hands free and can be found at dealers like Horizon Window Fashions. These motorized shutters don't come with a cord attached because the cord isn't necessary for controlling your window coverings. Instead of using a cord to control your Hunter Douglas window coverings, the PowerView system allows motorized shutters to move independently based on a schedule you set for them, making them perfectly safe for your children. 
For More Information
There are many tools available that can help educate and inform consumers of proper window covering safety methods. One of the best resources to use is the Window Covering Safety Council (WCSC) website. There, they have tips for childproofing your home, as well as articles, blogs and extra resources to help you keep your little ones safe from cord strangulation. 
Other resources you can use are:
Hunter Douglas Window Coverings at Horizon Window Fashions 
Horizon Window Fashions is a proud dealer of Hunter Douglas window treatments. We carry a wide range of Hunter Douglas blinds, shades, and shutters. Family is also important to us, which is why we encourage proper window covering safety. If you're looking to enhance the safety of your Hunter Douglas window coverings, then connect with us! We can help make your home's blinds or shades completely child safe, so you won't have to worry about your children being near the windows. Contact us today!
Hunter Douglas Window Treatments
Nearly all of the Hunter Douglas window treatments can be motorized now. The exclusive Hunter Douglas Powerview® system allows people to enjoy the convenience of opening and closing their window blinds or shades with the touch of a button. Most of the Powerview window treatments are battery powered. The battery is hidden behind the headrail so you don't have to worry about it being out in the open. You also have the option have your Hunter Douglas Powerview® system to be hard-wired, eliminating the need for batteries. And the motors that control the window treatments are very quiet so there's no noise to bother you while your blinds or shades are in motion.
Hunter Douglas Powerview® Hub
Hunter Douglas has created a new Powerview® Hub which includes technology that lets you use voice commands to control your window treatments. The Powerview Hub connects to a Wi-Fi router to communicate with your window coverings that feature Powerview motorization. Now, with certain devices, you won't even need to press a button to command your window blinds or shades. Download the Hunter Douglas Powerview® App to make the process even easier by allowing you to set scenes and timers which will put an end to turning your window treatments on-and-off by hand. Now, your window blinds or shades will be controlled automatically through the Powerview App.
How to Use Voice Commands to Control Your Window Coverings
The Hunter Douglas Powerview Hub now supports the use of devices such as Amazon Echo and Alexa to vocally control your window treatments. All you have to do is connect the devices together and adjust your settings, and you're done! Your window coverings can be controlled by voice commands, making the process of opening and closing blinds and shades effortless. Check out a few of the devices that can be integrated with the Powerview hub.
Amazon Alexa
To activate your Hunter Douglas Alexa blinds, go to the Alexa App on your mobile device and select "Menu." Next, select the Skills and Games tab and search "Powerview Scenes Skill." Enable the Powerview Scenes Skill, and then select "Discover Devices." Once connected, you can command your Alexa device by saying "Alexa, turn on…" followed by the Powerview Scene name. For example, if you say "Alexa, turn on Good Morning," your Powerview hub will activate the scene setting for that command and open or close your blinds to the desired setting. Take a look at this video that shows exactly how to connect your Hunter Douglas Alexa blinds to your Powerview hub. 
---
Apple HomeKit
To use the Apple HomeKit with your Hunter Douglas PowerView® Shades, you'll need to use your Apple Home app and Siri on any of the following Apple devices:
iPhone

iPad

Apple Watch

Mac laptop

HomePod
After you've installed your PowerView system, it's time to enable HomeKit directly from the PowerView app. Once enabled, your PowerView shades can be controlled using Apple Home and Siri with HomeKit enabled accessories from your Apple device.  
Click here to download the how to guide.
---
Google Assistant
To operate your Hunter Douglas PowerView blinds with Google Assistant you'll need to open either the Google Home or Google Assistant app on your mobile device. Click on "Home Control" in the Assistant tab. Next, Choose to add a device by clicking on the plus sign icon and select "Powerview Scenes." You'll be required to enter your Powerview account information in order to link your Powerview account to your Google account. Activate Powerview Scenes using the Google Assistant by saying action phrases that correspond to your Powerview Scene names. For example, say "Hey Google, activate Good Night," and your Powerview hub will activate and control your window blinds without having to lift a finger.  
Click here to download the how to guide.
---
Hunter Douglas at Horizon Window Fashions
Horizon Window Fashions is a proud dealer of Hunter Douglas shades, blinds, and shutters. Our trained window fashion experts are certified in Hunter Douglas products and are specialists in installation and maintenance of these products. If you're looking for new window blinds or shades, or want to try the Powerview window treatments by Hunter Douglas, then set up a free consultation! Our free in-home consultations make the process of getting new blinds or shades easy and painless.
We know it can be a difficult process when it comes to finding the right window blinds and shutters for your home. Whether you need a Reno blind repair or want a new look, Horizon Window Fashions has a variety of styles and materials to choose from. Stop by and take a look at our Hunter Douglas gallery, we are here to make this process easy and enjoyable for you.
Automated Window Treatments
Hunter Douglas PowerView Motorization
Hunter Douglas PowerView Shades and shutters help you create the perfect home setting. Whether you're using the app, pebble, or a home-automation system, PowerView shades lift and lower at your command.
The PowerView App
Using the Hunter Douglas PowerView App, you can control your shades and shutters with a simple swipe. Not only that, but you can create your own Scenes. Scenes allow you to position your window blinds and select the time of day that you would like them to operate. This can be done from the comfort of your home or even while you are away.
PowerView Pebble Control
If apps are not your style, Hunter Douglas has created the PowerView Pebble. Just like you use a remote to switch the channels on your TV, you can use Pebble Control to do the same for your shades. The Pebble allows you to control up to 6 different groups of shades in the house with the press of a button. https://youtu.be/BcrkyoHh42o
Home Automation Systems
You can integrate PowerView Motorization into a variety of home automation systems, including Alexa, Google Assistant, the Nest, and more.
Energy Efficient Window Treatments
Duette Architella Shades
If you are looking for energy efficient shades for your home, the Duette Architella shades are the ones for you. The honeycomb style shades are made with four separate layers. These layers help to slow heat transfers and gains allowing your house to stay cool in the summer and warm in the winter.
Duette Duolite Shades
Duolite shades consist of two separate fabric panels, these panels help to give off a seamless day to night feel and provide many options for privacy and light control. https://youtu.be/dCuNQs3sNaA
LiteRise Operating System
LireRise is a cordless operating system, its ease of use will make you question why you ever bought window coverings with a cord in the first place. To raise, you simply push up on the tab at the bottom of the shades; and to lower, you pull down.
EasyRise Operating System
Say goodbye to loose cords strings, and hello to the Easy Rise operating system. EasyRise contains a continuous cord that can be bolted to the wall. To raise and lower your shades, all you have to do is pull on the cord and voila!
Contact Us
If you are interested in learning more about our selection of Hunter Douglas window treatments and finding the right window blinds for your home, give us a call or visit us at Horizon Window Fashions today.
Smart Home and Smart Living with Hunter Douglas Motorization
With PowerView Hunter Douglas motorization, the world's most beautiful motorized drapes and shutters are now the most intelligent. This innovative wireless system lets you tilt your Hunter Douglas window treatments according to the schedules you set. Perfect lighting, energy efficiency, everyday convenience -- its all delivered automatically with Powerview technology.
CONNECT WITH HORIZON WINDOW FASHIONS
Technology At Your Service
Automated Living
The PowerView App makes life easy. The app gives you the option to create customized Scenes with the touch of a button. You can choose to operate shutters individually or in any combination that you desire. Once you've customized your Scenes, you input them into the Hunter Douglas PowerView app, and your motorized shutters will automatically close and open according to your schedule.
Energy Efficiency
Not only can you use the PowerView App to schedule when your shutters open and close, but with PowerView Motorization, you can tilt your shutters' louvers according to the sun's daily patterns. This can reduce solar heat gain, heat loss in the winter, and can lower your energy bills.
Secure
You no longer have to worry about the safety of your home when you are on vacation or out running errands. The RemoteConnect feature on your smartphone allows you to adjust your shutters for added security when you are away.
Battery Powered
All PowerView motorized shutters are battery powered, making them easy to install, operate, and maintain. The battery pack is hidden in the top/bottom rails, to put focus on the beauty of your shutters.
Child Friendly
Say goodbye to hazardous cords, the PowerView shutter system is cord-free! Not only is it aesthetically pleasing, but safer for homes with children and pets.
Elevate The Control Of Your Motorized Shutters
PowerView motorized shutters add a whole new level of convenience and precise control. Some of the added benefits of PowerView Motorization are:
Meet the Hunter Douglas PowerView Family
PowerView App
The PowerView App allows you to customize and automate your collections of Rooms and Scenes with one simple click. It's designed for compatibility with Apple iOS products and Android tablets and mobile devices.
Pebble and Surface Remote
The sleek, handheld Pebble Remote and the wall-mounted Surface remote puts direct adjustment at your fingertips.
Powerview Hub
The PowerView Hub connects wirelessly to your WiFi network, making it the central point of control for your home's PowerView motorized shutters. The Hub allows you to store all of your settings and activates your Scenes.
Pebble and Surface Scene Controller
Don't have your tablet or smartphone handy? No need to worry, the Scene Controller works seamlessly with your Powerview Hub or App to activate the Scenes that you have created, adding even more convenient control.
PowerView Repeater
The PowerView Repeater is a small signal enhancer that plugs into almost any outlet. The Repeater extends signal range and carry commands throughout your home, and it also provides customized lighting via its illumination feature.
Smart Connections Beyond Your Windows
Today's connected home is more advanced, and easier to control, than ever before. At Horizon Window Fashions, we want to help you find the best shutters for your home. If you want to learn more about Hunter Douglas PowerView Motorization, talk to one of our experts today!
Connect with Us Today!
If you're considering a window remodel, make sure you pick a company that values community and family as much as great service and expertise. Learn more about Horizon Window Fashions and check out our extensive line of Hunter Douglas window treatments. To see our window coverings in person, contact us or stop by our showroom located across from the Reno Costco.
LEARN MORE ABOUT HUNTER DOUGLAS MOTORIZATION
Energy-Efficient Window Treatments
Window treatments can make a huge impact on energy consumption. As much as 50% of a home's heating and cooling energy can be lost through its windows. All Hunter Douglas window treatments provide window insulation, offering your home increased protection against heat loss during the winter, while minimizing the sun's heat or "solar heat" during the summer.
Improve Insulation
In winter months, indoor heating escapes through windows to the outdoors. During the summertime, outside heat flows the opposite direction and into your home. Many Hunter Douglas window treatments help insulate homes; this reduces energy consumption, saves on heating and cooling costs, and creates a more comfortable room setting.
Solar Heat Control
The warmth provided by the sun (solar energy) may be desirable during winter months, yet this same heat can make a room overly hot and uncomfortable during the summer months, driving up air conditioning costs. Many window treatments are designed to reduce the amount of solar heat that passes through the window, which is known as the Solar Heat Gain Coefficient (SHGC). The lower the SHGC, the more protected your home is from the sun's heat. Enjoy the sun's warmth when desired, is as simple as raising or opening window treatments.
Daylighting
Daylighting is the practice of lighting rooms with natural light rather than generating illumination from electricity. With Hunter Douglas window treatments, you can control how much natural light comes into your room. Sheers and other select styles actually diffuse light as it enters, helping to draw it deeper into the room. You may also direct incoming light where it's needed most by tilting louvers, slats, vanes, window blinds and panels. Proper window treatments drawing natural light into a room and reduce your need for other types of lighting, netting energy savings.
How to Further Maximize Window Treatments and Your Energy Savings:
Ensure your windows and doors are properly weather-stripped.

Caulk around basement and storm windows.

When heating or cooling, keep windows locked.

Open your window coverings during sunny winter days to catch free solar heat then close them at night to keep that heat in.

Close your window coverings during summer days to keep the heat out.
Learn more about Horizon Window Fashions and check out the extensive line of Hunter Douglas window treatments that we offer. To see our window coverings in person, contact us or stop by our showroom located across from Reno Costco.
Nothing adds more versatility to a room than a designer screen shades from Hunter Douglas. These shades offer excellent UV protection while allowing you to keep a great view of the outdoors. Read on to find out some of the features that we have to offer with our Hunter Douglas shades.
1. Attractive Colors to Complement Your Home
With a selection of colors to choose from, you are sure to find a window shade that will complement your home. Beige, grey, or white are the best colors to accomplish this. Or, maybe you are looking to add a bold accent of color? If that is your goal, orange or red would be the perfect colors for you. Our designers can help you choose the best colors to match your room.
2. Custom Clutch System with Superior Technology
Ordinary shades might not effectively block out light or be easy to raise or lower. With Hunter Douglas, you can forget tangled cords or pulling on your shades to brighten or dim your room. Each shade has a flawless operation that is precision engineered to deliver a minimal light gap and a quiet, smooth operation.
3. In-Home Consultations and Expert Installation
Ready for the best part? Hunter Douglas products always come with a free in-home consultation and installation by a local design expert. You can forget about stressing out over the installation process, or choosing the right size, color…the list goes on. Leave it to us to come to your house and help you choose the best designer screen shades for your home. Benefits of Choosing Horizon Window Fashions: • Local, family owned company in Reno • Reputable business since 1999 • In-house skilled window fashion experts • Quality service and installation, every time • We help you get competitive pricing
Contact us For Your Free Consultation Today!
Your children mean the world to you, and their safety is a top priority. We want you to know that our team at Horizon Window Fashions cares about the safety of you and your family, too. October is window covering safety month, and we know you have lots of questions. We're here to give you answers and ensure that your home is equipped with child-safe window coverings.
Q: How can window coverings be unsafe for children?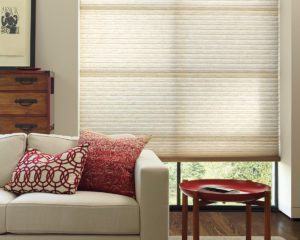 A: When it comes to window coverings, cords are the main hazard for children. While they might not look overtly dangerous, they can get wrapped around a child's neck and cause serious injuries. Safety experts recommend that homes with young children have only cordless window treatments.
Q: What options do I have for cordless window coverings?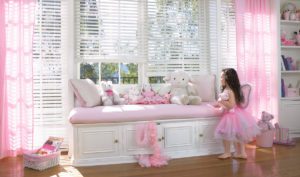 A: We're excited to share that, with Hunter Douglas's innovative technology and design, there are lots of ways to go cordless. Two of the most popular options are the Hunter Douglas LiteRise and PowerView motorization. The LiteRise operating system turns window blinds and shades into cordless wonders! Allowing you to simply push or pull them with your hand, your window coverings easily slide right where you want them. For child-safe window coverings coupled with convenience, look no further than PowerView motorization. A sleek Pebble remote or your favorite device takes the place of a cord. Just tap a button, and your window treatments adjust. You can even program your shades to move automatically! Hunter Douglas PowerView supports your busy life and your desire for safety.
Q: What if I need a cord?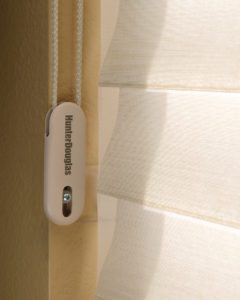 A: While cordless is the ideal option for child-safe window coverings, sometimes a cord is necessary. The good news is that you don't have to compromise safety. Hunter Douglas has revolutionary products that make cords safe. The UltraGlide operating system features a retractable pull-cord. This means that your cord maintains the same length whether your window coverings are raised or lowered. You can make the cord short so that it is up and out of the way of little hands. The continuous loop cord is another great choice. Looped inside a mechanism and secured inside your window frame, your cord operates like a pulley. Pulling on the front half of the loop lowers your shade, and pulling on the rear of the loop raises it. With either option, you'll never have to worry about strings dangling and endangering your family. You'll have the function of a cord and the peace of mind that your window coverings are safe for your kids.
Q: This seems like a big investment. Is it worth it?
A: Yes, yes, and yes! Life is full of hazards. While you can't safeguard your children from all of them, you should take steps to prevent the ones that you can. Installing child-safe window coverings will prevent injury and death, and your child's life is worth that investment! At Horizon Window Fashions, we understand that the safety of your children is priceless, but the cost of protecting them isn't. That's why, this month, we are offering free cordless upgrades on products that are already on sale during our Season of Style event. We want to help ensure the safety of your family at the best price.
Q: How do I get child-safe window coverings for my home?
A: If you're ready to make your home safer for your family, we are ready to help. You can stop into our showroom, or you can let us come to you. We'll gladly visit your home, help assess your needs, and guide you to child-safe window coverings that are just right for you and your unique home. Contact our team at Horizon Window Fashions for a free, in-home consultation today.

Are you excited for autumn in Reno this year? As the blazing summer heat begins to fade, cooler nights and more comfortable days are already a refreshing relief! Soon, vibrant colors will fill the trees and fall will be on full display with all of its glorious splendor. Enjoy that beauty inside your home this year with the season's hottest design trend: rustic decor. Bring in organic textures and shapes, natural warmth and colors, as well as glowing light and views all while keeping an elegant feel in your spaces. While autumn transforms the outdoors into a postcard-worthy paradise, transform your interior into one fit for a double page spread in a magazine. Start with the right top-down bottom-up window shades. They'll set the perfect tone for striking rustic style in your home this season.
Nature Comes In
One of the key features of rustic decor is its connection to nature. Rustic rooms are extensions of the outdoors and incorporate natural elements throughout their spaces. Hand-woven shades made from reeds, grasses, and woods–like these Provenance shades–are ideal for establishing rustic style. They make a natural, yet stunning, design statement all while offering you exceptional light control and spectacular views. These top-down bottom-up window shades filter sunlight and let you adjust them from the top or bottom to give your rooms a gorgeous autumn glow without harsh brightness or glare. Offering you a view-through, they also turn outside fall landscapes into pieces of art you can enjoy inside. Customize Provenance shades with optional valances and edge bandings for just the perfect look in your home this fall.
Light and Views On Display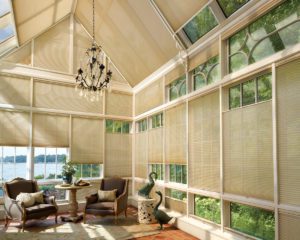 Rustic decor is all about natural lighting and views. With simple and minimal furnishings and accents, sunlight and outdoor panoramas often take center stage in rustic-styled rooms. Large expanses of glass on windows and doors are every rustic's dream. Yet, extreme brightness, glare, UV rays, and temperatures are not. Choosing the right window treatments is a huge part of making rustic decor a beautiful and comfortable reality in your home. The function of top-down bottom-up window shades is optimal for getting the most versatile light control, and Duette Architella Shades, shown here, add the benefits of superior energy-efficiency, UV protection, and a welcoming style that is a natural partner for contemporary rustic decor. Customize them for your home this fall and get free cordless with the Exclusive Savings promotion going on now!
The Past Becomes Present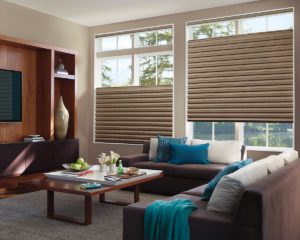 A sense of connection to the past is a classic aspect of rustic decor, but that doesn't mean it won't work in a contemporary space. In fact, today's interpretations combine tradition with modern design for a unique, best-of-both-worlds look. A predominantly neutral color palette mixes with pops of modern color. Natural materials and textured fabrics are paired with sleek surfaces and clean lines. Organic-looking window treatments merge with modern conveniences. These Solera Soft Shades appear to have come straight from the natural world, so they blend nicely into a rustic-inspired environment, and they have all of today's desired features: energy-efficient design, light-filtering and room-darkening options, top-down bottom-up function, and PowerView automation. They provide all the warmth and charm of rustic styling with all the conveniences of modern living. What more could you want? How about to get them on sale? Save on Solera Soft Shades this fall during the Season of Style Event!
With beauty ever-increasing outside, autumn is the perfect time to invite the natural and dramatic beauty of rustic decor into your home. It will transform your rooms into spaces of both comfort and elegance. If you're ready to begin with the perfect top-down bottom-up window shades, we're ready to help. Our design consultants can guide you in selecting the right styles, materials, colors, and operating systems for your rustic-inspired rooms. We can even provide advice and inspiration to help you achieve the look and feel you want in your home. Contact our team at Horizon Window Fashions for a free, in-home consultation.

Fall is a season of change and beauty. Leaves take on spectacular colors and cooler temperatures are a welcome relief after the heat of summer. With all the changes happening outside your home, are you ready for a transformation inside? You should love the atmosphere, style, and function of your home. Do you? If not, it's time to make a change! Adding window shades is the perfect way to create elegant ambiance, ensure the right levels of privacy, boost energy efficiency, and control light within your home. And now's the best time to do it! With the Season of Style event in full swing, the best savings of the year are waiting for you. If you're ready to elevate the beauty and function of your home at the best price this fall, then take a look at some options to see which window shades will be an ideal match for your style personality.
Organized with Duettes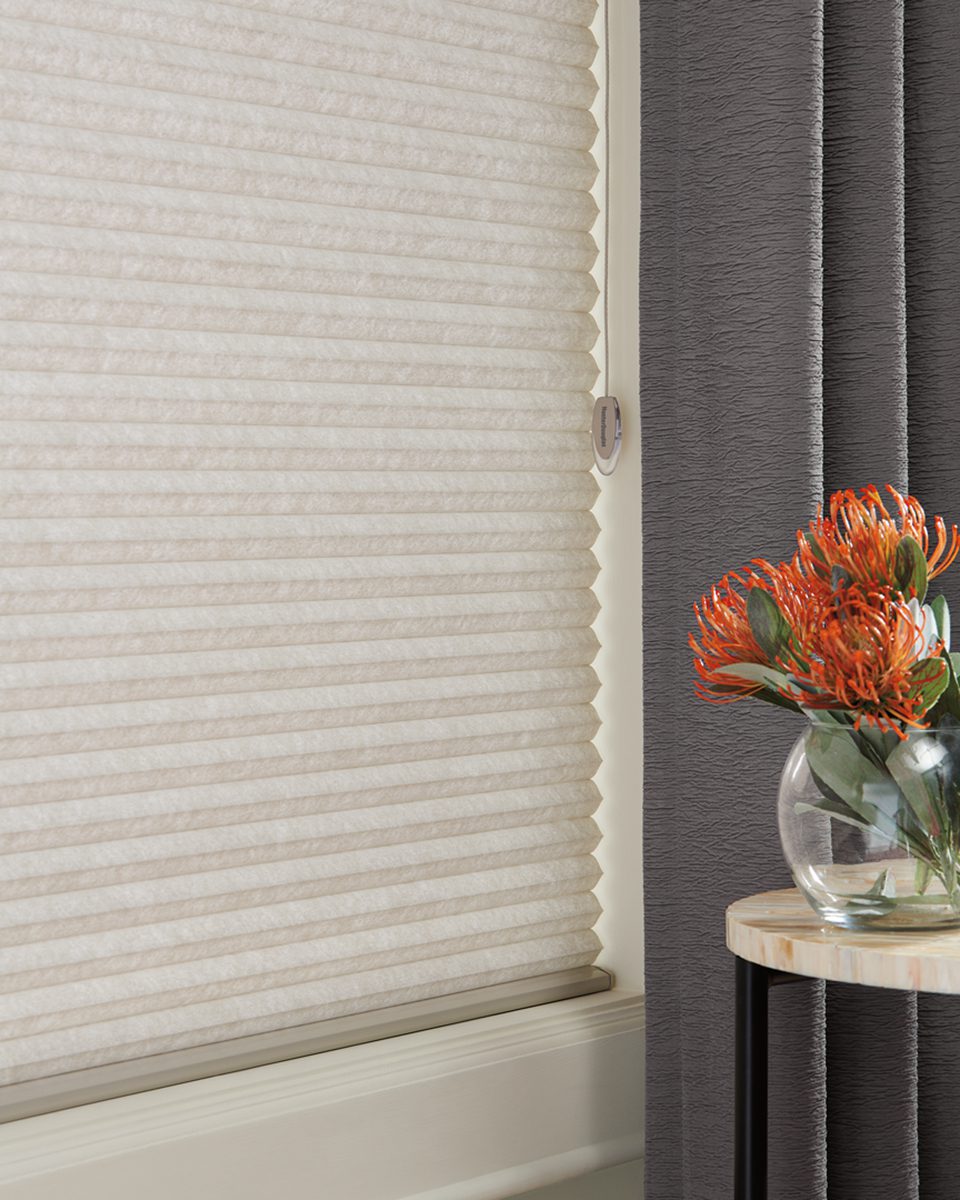 If you like coordination and crisp design, then you'll love our Duette Honeycomb Shades. Their uniform pleats offer consistency while easily complementing your existing decor and design elements. By customizing colors, patterns, and textures, you'll love the polished look these window shades add to your home as well as the privacy and light control they offer. Plus, they are top notch for energy-efficiency. Their honeycomb cells were designed to trap air and insulate at the window to keep your home cool in the summer and warm in the winter. Add the option of the Hunter Douglas PowerView motorization, and effortless operation and organization are truly yours! What more could you want? How about a fabulous deal? Check out our exclusive sale on Duette Honeycomb Shades.
Sophisticated with Silhouettes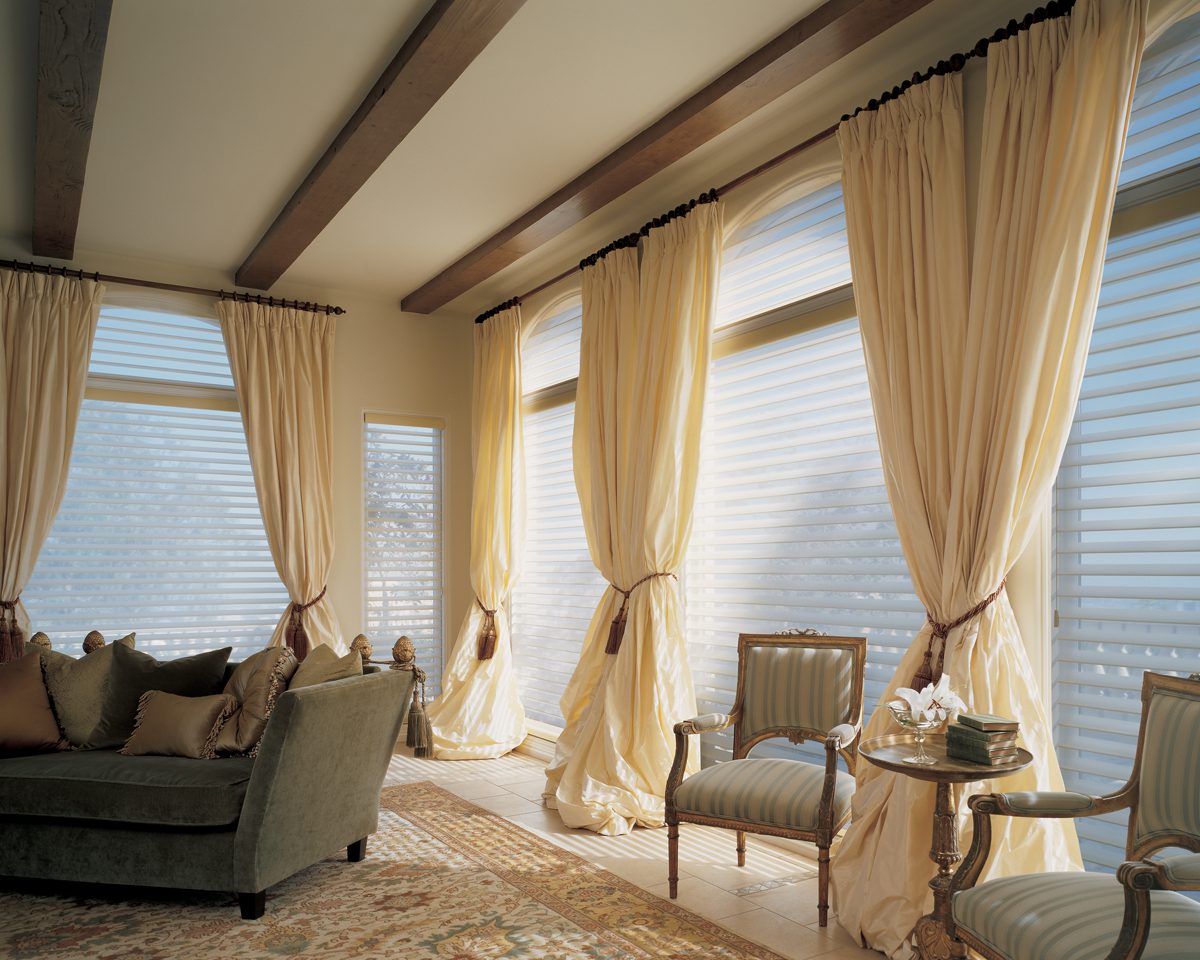 If you crave fashion-forward style, then Silhouette Window Shadings are just the thing to take your home to the next level. Stunning sheer fabrics filter out harsh light, glare, and UV rays to create beautiful, soft daylighting while protecting your valuable decor and still letting you take in the spectacular views you love. With A Deux--an exclusive option for Silhouettes--add a second, room-darkening shade for even greater privacy and light control. The atmosphere in your home will be flawless with these window shades--like it was lifted straight off the Houzz website or a magazine page. Don't wait to create that sought-after ambiance in your home. Save on sophisticated style with Silhouette Window Shadings today.
Relaxed with Pirouettes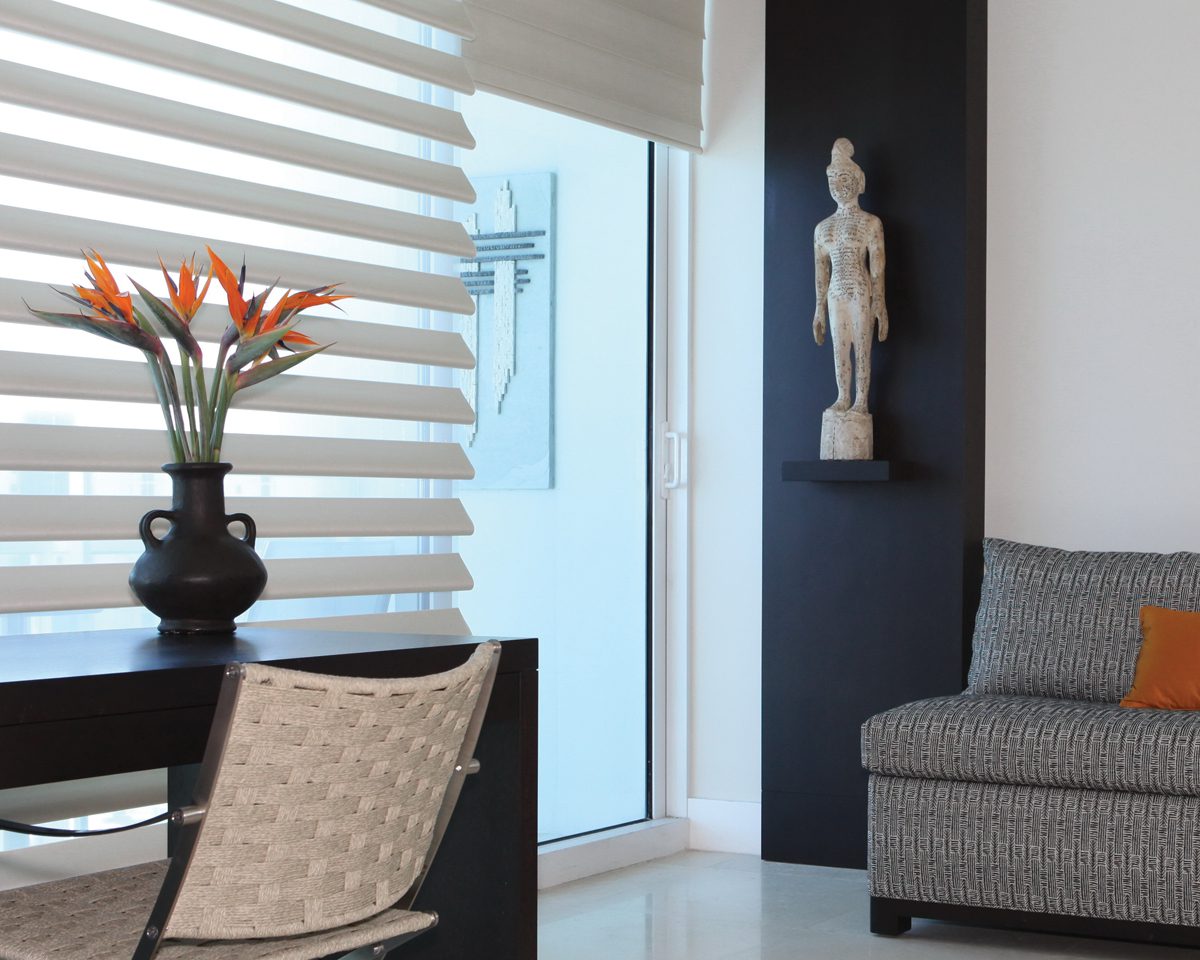 If you relish the comforts of home, then Pirouette Window Shadings will add to the peace and tranquility of your rooms. When open, their soft, fabric vanes and sheer backing have a flowy feel and welcome ambient light into your interior spaces. When closed, their contemporary style is paired with privacy control so you can unwind and live life in your own little sanctuary. The versatility and soft appearance of these window shades will highlight the look and function of your home so you can enjoy it like never before. You can enjoy dramatic savings on Pirouette Window Shadings, too!
Assisted by Horizon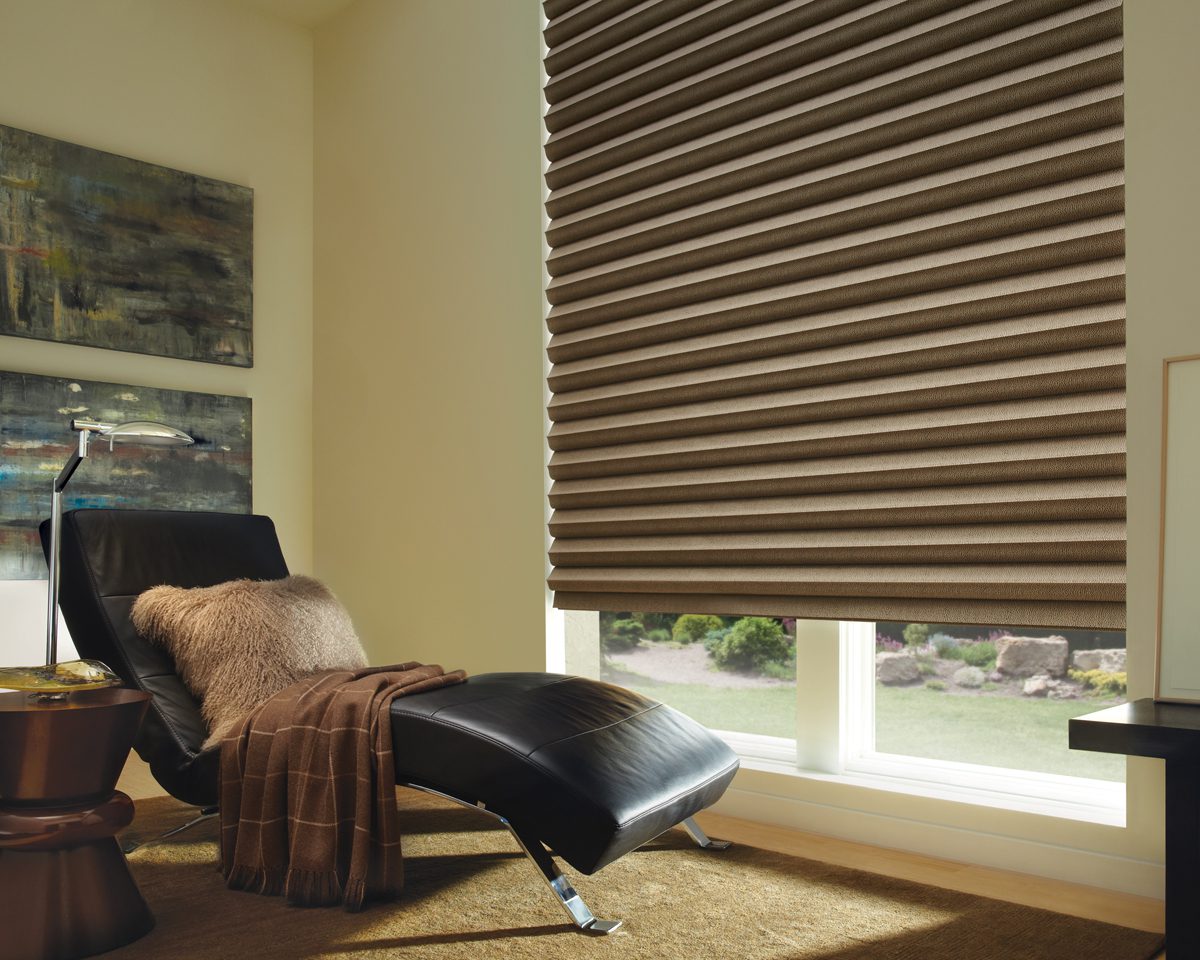 If you are unsure of which window shades will fit your home and your lifestyle best, then our team at Horizon Window Fashions is here to help! We would love to visit your home to give you personalized advice and inspiration. We'll assist you with finding the window covering products, fabrics, and features that suit your style personality and your budget. Already know what you want? Great! We're here to make it happen in your home. So, as the changes of fall surround you outside, embrace change inside your home. You'll be amazed at the difference the right window shades can make in your home and in your life. You'll also be amazed at the savings you'll receive during the Season of Style event. So, contact our team at Horizon Window Fashions for a free, in-home consultation today.